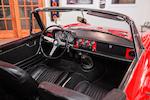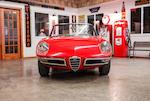 1967 Alfa Romeo Duetto Spider
Chassis no. AR 662917
Engine no. AR 00536*10888
Late in 1962, Alfa Romeo debuted the Giulietta's ostensible replacement, the Giulia, although production of the earlier car continued into 1964. The Giulia, initially a Berlina, featured a 1,570 cc four rated at 92 bhp and a five-speed gearbox. Sprint coupe and Spider convertible models followed, with engines available in several stages of tune. The suspension had been revised and disc brakes were featured all around.

A new Spider was launched in 1966. Designed by Pininfarina, it featured a rounded tail, sometimes called Osso di Seppia, Italian for cuttlefish bone. At launch it had no specific name, but a company contest soon selected the name "Duetto." Pininfarina also manufactured the monocoque body, which was powered by the 1570 Giulia engine. The model gained its greatest fame as a result of being cast in the 1967 Dustin Hoffman film "The Graduate." So faithful was its following that Alfa appended this name to the Series II North American version.

This Graduate Era Duetto has been in its present Alfa enthusiast's ownership for nearly a decade having been acquired at Don Williams' The Auction in Hershey in October 2003. Prior to this it is understood to have resided locally in Florida having been imported by Manfredo Lippmann of Guatemala where it had originally been delivered new. This original destination accounts for the kilometer calibrated odometer and Weber carburetor set up.

At its point of acquisition, it still wore its Guatemalan license sticker and that odometer read roughly 23,000 kms, which its owner feels was entirely credible based on the condition of the car as purchased. Both its previous and current owner feels that the Alfa has never been restored, making it all the more appealing. Since then it has been regularly used and enjoyed, though not excessively covering a mere 5,000kms more and remains in tidy shape all round.

One of the most iconic screen automobiles, these pretty, sporting Alfas are incredibly tractable and drivable open sports cars which in our opinion still represent terrific value when compared to some of their contemporaries. So hop in, have some fun, relive your childhood, or create memories that will be the souvenirs of your youth, but don't forget to fill it up with gas....