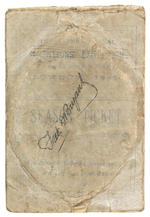 A fine and rare late 19th century burr walnut seconds-beating table chronometer. Exhibited at the International Inventions Exhibition, London 1885
Thomas Mercer, London & St. Albans
The exceptional movement of eight day duration, with substantial spotted plates united by four turned and finned pillars screwed front and back supporting the full length platform surmounted by the freesprung blued steel helical spring of 14 turns to a large cut and compensated bimetallic balance and Earnshaw type detent escapement, the chain fusee with maintaining power to very finely cut wheels of six and eight crossings, all with high count pinions, the contrate wheel with triple screwed jewelled chaton, the movement protected by a one-piece lacquered brass dust cover, mounted to the dial via four turned dial feet secured with blued steel screws, the 13 inch one piece silvered dial with concentric Arabic minute band enclosing twin subsidiaries for running seconds (with Observatory marks) and Roman hours containing the state of wind sector marked 0-8, with blued steel hands, the case with stepped cornice over a dentil moulding, capped canted corners and an ogee moulded base, the inside of the door applied with four paper panels giving dates of cleaning, the first dated June 1893, the last March 1995, and a fifth label giving the wheel train count as follows

Scape wheel 12, pinion 16
Fourth wheel 80, pinion 16
Third wheel 120, pinion 18
Centre wheel 144, pinion 15
Main wheel 180
Hour wheel (Between main plates) 180
Up + Down Pinion (On Fusee Square) 50
" Intermediate wheel 100, Pinion 10
" Wheel 100. 69cms (2ft 3ins) high.
Footnotes