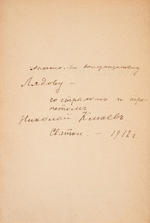 KLIUEV, NIKOLAI ALEKSEEVICH. 1887-1937.
Sosen perezvon [The Chiming of the Pines]. Moscow: V.I. Znamenskii i Ko., 1912.
8vo. 89 pp. Original decorated wrappers. Wrappers partially detached and lower spine chipped, photogravure of N. A. Kliuev affixed beneath dedication on p 5, white mark on contents page.

PRESENTATION COPY warmly inscribed to Russian composer A.K. Lyadov, in translation: "To Anatolii Konstantinovich Lyadov with awe and trembling Nikolai Kliuev Christmastime 1912." The poet has also made corrections in ink on pages 21, 28, 64, 74, 76-77. The book was dedicated to Aleksandr Blok, the poet's early champion; and Valerii Briusov provided the foreword. N.A. Kliuev was one of the important peasant poets associated with various religious sects. He was also gay, believed that Christ was gay, and filled his poetry with homo-eroticism. He may have had an affair with fellow poet Sergei Esenin before falling in love with artist Anatolii Kravchenko. Their relationship ended with Kravchenko's marriage. Kliuev was arrested in 1933 for anti-Soviet ideology and eventually shot. He was not rehabilitated until 1957. A. K. Lyadov, one of Rimsky-Korsakov's students, was originally asked by Sergei Diaghilev to write the score for "The Firebird" ballet. But when Lyadov failed to fulfill his part, the commission went to Igor Stravinsky.