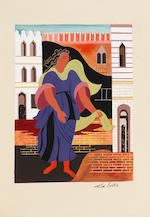 EXTER, ALEXANDRA. 1882-1949.
FRANCE, ANATOLE. Mystère du Sang. Paris, June 1, 1941.
Folio (330 x 250 mm). 31 pp. Calligraphy by Guido Colucci. Original hand-lettered vellum wrappers, housed in a custom slip-case. Light foxing.

ORIGINAL LIVRE MANUSCRIT BY ALEXANDRA EXTER WITH THREE FULL-PAGE AND ONE HALF-PAGE SIGNED GOUACHES, SIGNED BY EXTER AT COLOPHON. Alexandra Exter was among the most accomplished Russian émigré artists working in Paris between the wars. Born in Białystok, Imperial Russia (now Poland), she was one of the brightest stars of the Cubo-Futurists. Constructivist elements too are evident in her work produced before emigrating with her husband to France in 1924. She was friends with Pablo Picasso, Georges Braque, Fernand Léger, Robert and Sonia Delaunay and many other important members of the School of Paris. As Christina Lodder observed, she "was one of the most experimental women artists among the avant-garde of 1910–30, but she was not affiliated to any particular movement." Best remembered for her stunning costume and set designs such as those for the early Soviet sci-fi picture Aelita Queen of Mars (1924), Exter made book illustration also an important part of her career from her very first commission to decorate Olga Forsh's Rytsar iz Nurenberga [A Knight from Nuremberg] (1908). Literature was always important to her. "Exter talked with us for hours about literature," fellow painter Esther Shimerova recalled their art school days. "She always and for any reason returned to literary themes". In 1933, she began producing a series of Livres Manuscrits for discriminating collectors or as gifts to friends and disciples. Consequently, as Exter expert Georgii F. Kovalenko has observed, they were not made to order but came from the artist's soul. They were limited to no more than five copies, each containing original paintings by the artist. Produced at the height of her powers as an artist, these books in French included classic and modern texts by Aeschylus, Horace, Petrarch, Sappho, François Villon, Pierre de Ronsard, André Gide and Anatole France embellished with finished gouaches. Exter fully understood the art of the book. "The book does not need to supplement illustration, to literally follow the text," argued Matisse. "Artist and writer must act together without mixing, but in parallel. Drawings must be the plastic equivalent of the verse". However, unlike the usual illustrated books that combined suites of original prints with supplemental texts, Exter's Livres Manuscrits fully integrated the picture and the word to create an artistic whole. She collaborated in perfect harmony with master calligraphers like Guido Colucci to produce these unique works of art. Kovalenko praised one of them for "the simultaneity of images and words in their indissolubility ... their non-interruptible dialogue." Mystère du Sang, a poetic story about absolution by the French Nobel Prize winner Anatole France, takes place in fourteenth century Sienna. Exter appropriately evokes the early Renaissance both in subject and manner with her her monumental figures and simple, strong geometric architecture. According to the colophon, only two copies were prepared and completed on June 1, 1941.