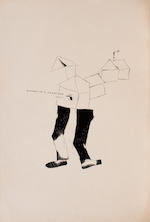 CHAGALL, MARC ZAHAROVICH, illustrator.
HOFSHTEYN, DOVID. Troyer [Mourning]. Kiev: Kultur-lige, 1922.
Folio. 23 pp. With four inserted black-and-white plates and two other textual illustrations by Chagall. Original decorated green wrappers. Wrappers and spine a bit faded, some creases, minor wear along edges; partially uncut.

Many Jews embraced the October Revolution as a liberating force not only politically but culturally as well, embracing the avant garde just as they were reevaluating their folk culture. Marc Chagall emerged from Vitebsk, Belarus to become the preeminent Jewish artist of the twentieth century. However, despite the overturning of the old anti-Semitic tsarist laws by the Bolsheviks, it was still a dangerous time for Jews. Hofshteyn wrote Troyer in response to the recent pogroms carried out in the Ukraine during the Russian Civil War. Chagall's mystical Cubist designs touch on the sorrow expressed in the poetry: his first drawing depicts "a man with weeping hands, the next refers to blood dripping amid sunshine, and the last is a moving drawing of a series of houses over a headless body symbolizing the pogroms" (Apter-Gabriel 62). Hofshteyn also plays with the shape of his poetry as in the circular poem on p 11. At the time Chagall himself was battling Malevich and his Suprematists (including the turncoat El Lissitzky) who, offended by what they considered to be Chagall's "bourgeois individualism," overthrew him as head of the Popular Art Institute in Vitebsk. Not long after this insult, Chagall left Russia for good. Troyer was published by the Kultur-lige, then the center of the Jewish cultural renaissance in Kiev. Its lively press issued educational materials, literary and historical studies, literary journals and exceptional children's books in Hebrew for an eager Jewish population. Hofshteyn continued to write in Hebrew despite growing Soviet antagonism toward the language. He somehow survived the Purges of the 1930s and joined the Jewish Anti-Fascist Committee in 1942. But Stalin's paranoia continued to grow as he convinced himself that the Jews were planning to assassinate him. Hofshteyn was the first member of the Anti-Fascist League to be arrested for "anti-Soviet activities." On August 12, 1952, he and a dozen others were executed in the Lubyanka Prison in Moscow on what became known as the "Night of the Murdered Poets." Rowell/Wye 373, pp 142,143; Apter-Gabriel pp 62, 215, 258.