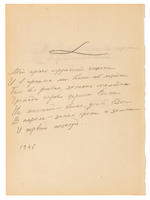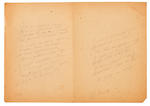 AKHMATOVA, ANNA ANDREEVNA. 1889-1966.
IMPORTANT COLLECTION OF MANUSCRIPTS, INCLUDING AN APPARENTLY UNPUBLISHED POEM IN MANUSCRIPT.
1. Single sheet with two typescript poems to recto and two autograph manuscript poems in pencil to verso. The first typescript poem is the original version of "A vy, moi druzya poslednego prizyva!" ["And you my friends of last draft!"], dated 1942. The poet has made some editorial changes (mostly punctuation) and added the place "Diurmen" in North Central Crimea in pencil. The poem was later changed significantly to accommodate the censors. The word "svyatzy" [church calendar] was dropped and "Boga" [God] was replaced with "slavy" [fame]. She also reversed their order of the poems in her collected poems.
The second typescript poem is the original version of "Pobeditelyam" [To Winners], dated 1944. The poet added "Tashkent" in pencil.
On verso, Akhmatova has written two poems in pencil. On the right is the poem "I uvidel mesyats lukavyi" ["And the cunning moon saw"], dated January 27, 1946, Leningrad in her complete works.
ON THE LEFT IS АNOTHER MANUSCRIPT POEM ABOUT THE WAR THAT APPEARS TO HAVE NEVER BEEN PUBLISHED: "Даже имя забудешь милый/ Ну а мне среди этих снов/ Дострадать до огня над могилой/ Над братской могилой стихов./ Что с того что душа окрепла/ Тверже стали она теперь/ Но седеет горсточка пепла/ Ждет привычного гостя дверь/ И какой благодати ради/ Я тебя отпустила тогда/ Чтоб остаться сжигать тетради/ В эти дьявольские года."
2. Single sheet, with 2 manuscript poems to recto and verso. On recto is the original version of the poem "Moi gorodok igrushechny sozhgli" ["They burned my toy town"] as published in Zvezda in 1946. Akhmatova was referring to her old home Tsarskoye Selo that was destroyed by the Nazis during World War II. In 1958, the authorities forced her to revise the text to remove any hint of the glorification of "the past." On the verso is "I ostalos iz vsego zemhogo"["And the left of all the Earth"] and dated 1941.
3. Section title "Sedmaya kniga" [Seventh Book] in her hand and signed in pencil. Published: Anna Akhmatova: Stikhotvoreniya i Poemy, (Leningrad: Leningradskoe Otdelenie, 1979), p 223.

Anna Akhmatova was one of the great heroic and tragic figures of twentieth century Russian literature. Despite her recognition as one of the most important poets of her age, she suffered inestimable personal sorrow and yet she remained in Russia. Her first husband, the poet Lev Gumilev, was executed by the Bolsheviks; her common law husband, art critic Nikolai Punin, died in the Gulag. She was constantly harassed by the Soviet government. In 1946, her work was officially banned and Andrei Zhdanov, the Secretary of the Central Committee, expelled her from the Writer's Union. Her son, Lev, was arrested in 1949 and held in jail until 1956. To try to win his release, Akhmatova wrote poems in praise of Stalin and the government, but to no avail. She later requested that these poems not be included in her collected works. She resumed writing and publishing in 1958, but remained under heavy censorship.