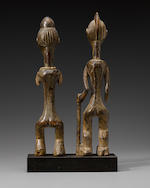 Baule Pair of Diviner Figures, Ivory Coast
Wood, sacrificial materials, beads
heights 13 1/2in (34.3cm) and 13 3/4in (34.9cm)

PROVENANCE
Henri Kamer, Paris, 1962
Dr. David V. Becker Collection, New York
Thence by descent

"Baule diviners are consulted by people who desire assistance in solving significant problems, perhaps relating to childbearing or other health concerns. Sculptures are often an important presence in divining sessions. Diviners may inherit such works from older colleagues or commission them based on the direction of a spirit whose insights they draw upon in their professional consultations." (Metropolitan Museum of Art, WEB, nd, 2013).

These two figures, harmonized through matched stance and form, each have elegant coiffures with downturned, tranquil expressions.