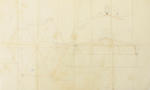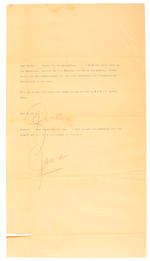 WRIGHT, FRANK LLOYD. 1867-1959.
DRAKE, BLAINE, and HULDA (BRIERLY) DRAKE.
An extensive archive of drawings, letters, documents and other original material by and relating to Frank Lloyd Wright, from the collection of two of his prized apprentices, Blaine and Hulda (Brierly) Drake. The Drakes were members of the original class of fellows at Taliesin, Frank Lloyd Wright's compound-cum-architectural academy in Spring Green, Wisconsin. The tight-knit crew of young architects shared communal responsibilities while working under the direct tutelage of Wright, and assisted on many of his most important designs (Blaine, for example, was among the apprentices present when Wright sketched out his plans for Falling Water). Blaine and Hulda were married at Taliesin—with Frank and Olga Lloyd Wright signing the marriage certificate as witnesses—and the two were among the group that first settled Taliesin West, just outside of Phoenix, AZ. Among the projects that Blaine served on before the Drakes left the Taliesin fold in 1941 was the Sidney Bazett house in Hillsborough, California, one of Wright's most successful "Usonians." Blaine struck out on his own in the 1940s, and in the subsequent decades made his mark as one of the most influential architects in the Phoenix area.

Includes:
1. 5 original architectural drawings, viz: a pencil and color pencil architectural drawing labeled "Hill Crown" and "Bell, Los Angeles," 22 x 30 inches (sheet), with hand-drawn Frank Lloyd Wright monogram at bottom, SIGNED by Wright and dated April 8, 1939, tear at lower right with a bit of loss to drawing, stain extending 7 x 7 inches and overlapping drawing, a few small holes. * A color and pencil drawing of a proposed desert unit for Hulda and Blaine Drake at Taliesin West (so labeled), 23 1/2 x 30 1/2 inches (sheet), hand-drawn Wright monogram at bottom, SIGNED by Wright, [1939], tear to edge with minor loss, some light spotting, faint uneven toning, folding creases, [with] detail for same, 19 1/2 x 35 1/2 (sheet), [with] silver print photograph of Taliesin West, 1937, [and with] TLS, Gene Masselink to Blaine and Hulda Drake, 1 p, referring to the above drawings, as well as to projects for Bazett and Bell. * Pencil and color pencil elevation for Sidney Bazett House, 1939, 18 x 18 1/2 inches (sheet), toned, creasing to edges, folding creases. * Pencil and color pencil drawing for Bazett House, 19 x 18 inches (sheet), with detail changes "OK"'d and INITIALED by Wright in pencil, creasing to edges, folding creases, toned. * Pencil sketches of furniture, 9 x 19 inches (sheet), [1939], with lengthy note in margin signed "Jack" [Howe].
2. 11 Typed Letters and Notes Signed, ("Frank Lloyd Wright" and "FLLW"), including 1 in fragment and 2 unsigned; 2 Autograph Notes Signed ("F.L.L.W." "Frank"); and 12 Telegrams; together, 26 pp, 4to and 8vo, Spring Green, Wisconsin, January 16, 1936 to June 5, 1952, many on Taliesen letterhead, most to Blaine and Hulda Drake, regarding Taliesin's role as an educational institute, architectural commissions and building instructions, Japanese prints, and including 3 page "General Instructions to Builder" for the Bazett house sent to Blaine Drake, and a note on house rules for apprentices at Taliesen, envelopes, toned, folding creases.
3. Letters from Olga Lloyd Wright, Gene Masselink, and others associated with Taliesin, a fine collection of Taliesin internal publications and circulars, related Frank Lloyd Wright printed ephemera - including building proposals and lectures - and architectural books from the Drake library.