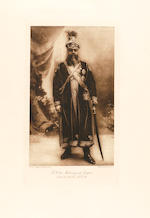 Seven books on coronations and the British imperial presence in India
1. LAWSON, CHARLES ALLEN. Narrative of the Celebration of the Jubilee of He Most Gracious Majesty Queen Victoria... London: Macmillan and Co., 1887. 4to (300 x 240 mm). Orig deluxe full morocco gilt. With approx 43 photographic illustrations. Covered slightly rubbed, partial tear to frontis. PRESENTATION COPY. With manuscript signed and dated 1887 by author gifting the copy to Viscount Gross, Secretary of State for India on behalf of Lord Connemara.
2. Coronation of their Majesties King Edward VII & Queen Alexandra, 9th August 1902. Ballygarth Castle [circa 1902?]. Oblong 4to. Bllue pebbled cloth with morocco onlays gilt, cloth scuffed. A commemorative album, consisting of 17 ALBUMEN prints and 11 photogravures, several blank leaves without a silhouette of a missing photograph suggesting the album was possibly personal and unfinished. One loose photograph, minor edgewear.
3. WHEELER, STEPHEN. History of the Delhi Coronation Durbar. London: John Murray, 1904. Folio (360 x 290 mm). Vellum gilt, Royal Arms of Great Britain on red & gilt to upper cover. With 51 photogravure portraits and plates after Bourne and Shepherd, Raja Deen Dayal and others, 3 maps and plans, one loose. Cover and edges scuffed and soiled. LIMITED EDITION, no. 65 or 250 copies on hand-made paper.
4. MENPES, DOROTHY & MORTIMER. The Durbar. London: Adam & Charles Black, 1903. 4to (265 x 200 mm). Orig deluxe CLOTH gilt. Copiously illustrated with color plates. Minor edgewear, fine condition. LIMITED EDITION, no. 554 of 1,000.
5. The Historical Record of the Imperial Visit to India 1911. Compiled from the Official Records under the Orders of The Viceroy and Governor-General of India. London: John Murray, 1914. 4to (270 x 215 mm). Orig cloth gilt. Complete and copiously illustrated with color plates, collortypes, and illuminated head and tail pieces. Worn upper hinge, minor edgewear.
6. Coronation Durbar, 1911: Being a Reprint of Articles and Telegrams Previously Published in the Pioneer. Allahabad, Pioneer Press, 1912. 8to (240 x 185 mm). Orig cloth. Edgewear, some wear to binding of early pages.
7. REED, STANLEY. The Royal Tour in India. A Record of the Tour of T.R.H. The Prince and Princess of Wales in India and Burma, from November 1905 to March 1906. Bombay: Bennett, Coleman, & Co., 1906. 4to (300 x 240 mm). Orig cloth. 2 photogravure frontispiece portraits, map, numerous illustrations after photographs by Bourne & Shepherd, and Raja Deen Dayal. Minor wear to cover edges and spine.
FIRST EDITIONS UNLESS STATED OTHERWISE.
Footnotes