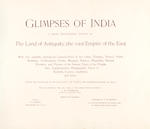 Six travel and early reference books
1. FERGUSSON, JAMES. - Tree and Serpent Worship. London: India Museum, 1873. Orig half mor gilt. With 2 hand colored maps, 57 mtd albumen photographs & 43 litho plates on Amaravati and early Indian sculpture. Cover rubbed, minor spotting.
Provenance: Colonel Alfred Capel Cure (bookplate)
2. An album of 8 x 11 in. silver gelatin prints commemorating a pageant celebrating Maharaja Sahib Bahadur of Alwar. With 37 prints of possibly on original 41. Split binding and craquelure throughout.
Provenance: Christie's, London, 5 June 1996, lot 306
3. DUNSTERVILLE, F. Illustrated Guide to the Madras Railway. Madras: Higginbotham and Co., 1898. Oblong 4to. (250 x 290 mm) Orig cloth gilt. With 40 illustrated plates of landmarks and people. Cover rubbed and stained, good overall.
4. HOME, ROBERT. Select Views in Mysore. London: Mr. Bowyer, 1794. Folio (340 x 265 mm). Early half calf. With 29 plates, 4 folding maps (1 hand-colored). Worn, upper cover detached.
Provenance: Christie's, London, 5 June 1996, lot 191
5. FURNEAUX, J. H. (ed.). Glimpses of India: A Grand Photographic History of the Land of Antiquity, the vast Empire of the East. London: C. B. Burrows, [poss. 1986]. Oblong folio (275 x 340 mm). Orig cloth. Copiously illustrated. Covers stained and rubbed.
6. THOMSON, JOHN. Through China with a Camera. London: A. Constable & Co., 1898. 8to (200 x 160 mm). Quarter morocco & cloth. Nearly 100 illustrations. Fine.
FIRST EDITIONS.
Footnotes