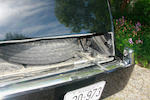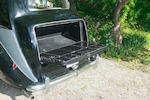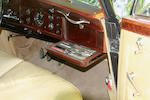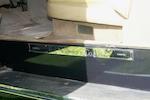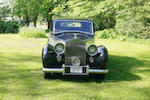 1950 Rolls Royce Silver Wraith Enclosed Drive Limousine
Coachwork by H.J. Mulliner
Chassis no. LWHD48
Engine no. W48D
4,257cc OHV Inline 6-Cylinder Engine
Approximately 125bhp
4-Speed Manual Transmission
Front Independent Suspension, Rear Semi-Elliptic Suspension
Front and Rear Drum Brakes

*In current ownership since 1975
*Illustrated in Rolls Royce in America
*Left-hand-drive example for American market
*Electric divider window
*Engine rebuilt to original Rolls Royce specification


The Rolls Royce Silver Wraith

In 1946, Rolls Royce resumed automobile production with the Silver Wraith. The last Rolls Royces delivered exclusively as chassis for coach-built bodies, they were offered with the pre-war inline 6-cylinder, with a new head incorporating overhead inlet valves and side exhaust valves.

Unlike previous Rolls Royces, this was the first model to have commonality with its Bentley sibling. Many mechanical parts were shared due to low demand for luxury cars in post-war England. This was partly due to the economy, but also to a significant automobiles tax and gasoline rationing.


The Motorcar Offered

Ordered in 1950 from Inskip, Inc. by the A.G. Baker Funeral Home of Bridgeport, Connecticut, chassis LWHD48 was delivered with Mulliner body style #5151 in black and grey. The Silver Wraith has always been appreciated for long-distance driving, and this car shows just over 107,000 miles.

The current owners purchased it in 1975 and treated it to a rebuilt engine in 1976, and new paint in 1993. The interior has had refurbishing as needed, and the correct-size wheels have been fitted. Otherwise, it is largely original. It can be seen in the book Rolls Royce in America by John Webb de Campi. Here is a well-documented, well-preserved Silver Wraith in a rarely-seen body style coming out of long term ownership; a great entree to the post-war Rolls-Royce experience.
Saleroom notices
Please note that the correct engine number for this vehicle is RE8812.