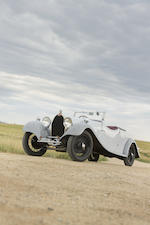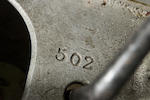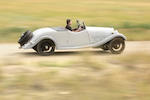 Ex-Jean De Dobbeleer
1928 Bugatti Type 44 Cabriolet
Chassis no. 44769
Engine no. 502
2,991cc SOHC Inline 8-Cylinder Engine
1 Schebler Carburetor
Approximately 100bhp at 4,500rpm
4-Speed Manual Transmission
4-Wheel Leaf Spring Suspension
4-Wheel Drum Brakes

*In current ownership since 1960
*Recent re-commissioning by Jim Stranberg's High Mountain Classics
*Bugatti's reliable and powerful 3-liter model
*Excellent Bugatti touring car
*Eligible for prominent rallies and tours worldwide


The Bugatti Type 44

By the early 1930s, Ettore Bugatti had established an unrivalled reputation for building cars with outstanding performance on road or track; the world's greatest racing drivers enjoyed countless successes aboard the Molsheim factory's products and often chose them for their everyday transport. Considered the finest touring Bugatti of the 1920s, the Type 44 was introduced in 1927 and was produced until 1931. Debuted at the Paris Auto Salon in October 1927, the Type 44 replaced the 2-liter Type 38. It shared much of the Type 38's chassis, although strengthened to withstand the increased power output.

1,095 were built, of which around 10 percent are believed to survive today. The Type 44 was powered by the revised single-overhead-cam straight eight engine, one of the most famous automobile power units of all time. Because of its lengthy run of success, Ettore Bugatti remained committed to his single-cam design, only adopting the double-overhead-camshaft method of valve actuation on the Type 50 of 1930, after considerable prompting by his eldest son, Jean. The Type 44's twin-block, three-valves-per-cylinder, single-plug engine displaced 2,991cc and produced approximately 80bhp, an output good enough for a top speed of over 75mph.

Most importantly, the engine received an entirely new crankshaft, one having nine plain bearings for the eight cylinders, thus becoming one of the most solid and reliable crankshaft Bugattis ever made. Driving via a four-speed gate-change gearbox, the Type 44 used a finely tuned leaf spring suspension, and had large, effective drum brakes on all four corners. "The 3-litre Type 44: Smooth, fast and reliable"'- that's how renowned Bugatti historian H.G. Conway headlines his chapter on the Type 44 in his Bugatti book in The Great Marques series. That really sums up the great Type 44.


The Motorcar Offered

The fine example offered here, Type 44 chassis number 44769, lives up to that fine reputation in the best possible way. Completed at the Molsheim Bugatti works in October 1928, the new Type 44 was delivered to Parisian Bugatti agent, Stand-Auto, in December that same year. 44769 was offered with a considerable price tag of 44,450 French Francs to its first owner. According to Belgian Bugatti registrar Kees Jansen's records, 44769 remained in Europe, where it was later owned by a Mr. Buson. Mr. Buson would later sell the car onto renowned Bugatti expert, Jean De Dobbeleer.

In 1960, 44769 was purchased by the consignor, an East Coast enthusiast who lived in Reno, Nevada at the time. 44769 was shipped by boat to the USA that year, and has remained here ever since. Barely running, 44769 was in need of restoration, and soon a nearly 5 decade long restoration process was begun.

This process was aided by the fact that the car was essentially untouched, having all original chassis parts with original consistent factory numbering throughout. Help was provided at critical points by Bugatti enthusiasts in the US and Europe, starting out with a careful disassembly in 1961, under the guidance of Dr. William O'Brien, an avid American Bugatti Club member. Later, the transmission was rebuilt and the front axle refurbished with new kingpins and rebuilt shock absorbers.

The engine was rebuilt during the same period, including restoring the crankshaft back to standard bearing size, rebuilding of the rod and main bearings as well as the oil pump. The distributor was replaced with a Vertex magneto for reliability. The owner performed the hand chasing on the cambox, having observed the original method while visiting the factory at Molsheim.

During the mid-1990s, the bodywork was removed and a frame-up rebuild of the chassis was undertaken by Dennis Taylor Reproductions. Going down to bare metal, any rusted areas were carefully replaced with new metal, and the wood was refurbished where needed.

The owner finally began assembly in 2004 installing a new cherry wood dash, a set of matched Jaeger instruments purchased in Paris in 1966, and a new wiring harness from Rhode Island Wiring Co. The mechanical functions of the car were evaluated for operability and safety in 2006 by Jim Stranberg's High Mountain Classics. The water pump, generator, clutch and braking system were gone through, and valves and timing reset. Furthermore, the radiator honeycomb core was replaced by a UK-based specialist. Finally in September 2007 the car had its maiden outing at the American Bugatti Club Grand Prix and Rally at Watkins Glen, NY. It has since been driven regularly on the beautiful country roads of the Virginia Piedmont.

In 2012, 44769 went back to Colorado for further refurbishments and tuning by Mr. Stranberg. At this time the suspension was completely rebuilt and brakes examined and repaired. The camshaft was reground to standard, hardened, and the valves re-set once again.

An extensive history file is available documenting the car's movements, stages of restoration, and expenses during all these many years.

A great example of Bugatti's grand touring Type 44, this would be a wonderful addition to any collection of pre-war or post war motorcars, a strong contender at any Concours d'Elegance or a excellent driver on tours with Bugatti clubs around the world.
Saleroom notices
Please note, since catalog publication, more details about the early history of 44769 were sourced by noted Bugatti historian Pierre-Yves Laugier. The history report documents the car's early history in greater detail, and suggests that the coachwork for 44769 was created when the car was new by Parisian coachbuilder Pourtout. Please note that the title for this vehicle is in transit.