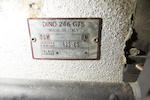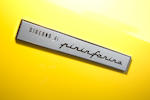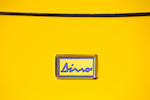 1973 Ferrari Dino 246GTS
Coachwork by Scaglietti - Design by Pininfarina
Chassis no. 06290
2,419cc DOHC V6 Engine
Three Weber Carburetors
195bhp at 7,500rpm
Five-speed Manual Transaxle
4-Wheel Independent Suspension
4-Wheel Disc Brakes

*Two long-term private owners since 1975
*Desirable factory options including Daytona seats, A/C, and power windows
*Shown at Concorso Italiano
*Driven 15,000 miles in last 5 years
*US specification Dino GTS


The Dino 246GTS

The Dino 246 GT replaced the 206 GT in late 1969, an important year for Ferrari as it saw the firm's formal association with FIAT and put at Maranello's disposal the considerable resources of the Torinese group. The Dino's chassis was lengthened, the body was now steel and the cylinder block cast-iron rather than aluminium, but the bigger engine's increased power was adequate compensation for any weight gain. The outside fuel filler of the 206 was deleted, and the predecessors' distinctive knock-off wheels followed soon afterwards. A Targa-top version, the 246 GTS, followed in 1972.

According to the highly respected Road & Track magazine, "it is a thrill to drive a car like the Dino, one whose capabilities are far beyond what even an expert driver can use in most real-world motoring, and that is the Dino's reason for being."


The Motorcar Offered

This delightful Dino is a US specification GTS imported in late 1973 by Bill Harrah's Modern Classic Motors of Reno, Nevada, delivered in the rarely seen optional color of Blu Dino Metallizato with beige interior, and fitted with the optional Daytona seats, air conditioning, and power windows.

We understand that this Dino was sold new in Oklahoma; a Registration Certificate dated February 26th, 1975, in the name of Morey-Hughes Enterprises of Oklahoma City, quotes a factory delivered price of $16,700. The vendor recalls that the original dealer's wife had intended to keep the Dino, but decided instead on a Chevrolet Corvette after driving the Dino some 3,000 miles.

In 1975, still with very few miles on it, the Dino was purchased by Gary Caster, a Navy pilot who drove it often, keeping it as his preferred transport for many years while in Virginia and later at the US Navy base in Naples, Italy. During its time in Italy in 1984, the Dino's engine would be rebuilt, though invoices for this work have not been located. Eventually Caster moved to San Diego, California, taking his Dino with him, and he continued to drive it until 1989 when a road accident relegated it to the garage.

In 1999, the vendors acquired the Dino, with some 92,000 original miles at the time, and decided immediately to embark on a restoration to prepare it for extensive and reliable touring. A bare metal repaint in Fly Yellow was performed, while the bumpers were sent off for replating. Matt Jones of Re-Originals obtained the correct upholstery items in Italy, which include the Daytona "chairs", door panels, carpets, mouse hair dash and other components. Window rubbers have been replaced as well as door rubber and trunk rubbers. A set of desirable and attractive Campagnolo wheels give the car an aggressive demeanor.

Since completing the restoration, the vendors have reported that the Dino has been a reliable companion on long-distance trips - with an estimated 15,000 miles of happy motoring covered over the last half dozen years. The odometer reading of approximately 3,000 miles is said to reflect the car's original mileage of ca. 103,000. They have also enjoyed showing the car at venues including Concorso Italiano and the Danville d'Elegance. Of the four Ferraris that have seen long-term ownership in the vendors' hands, they report the Dino to have been their favorite to drive overall.

Offered with a jack, tool kit, operator's manual, parts book and more, this is a Dino 246 GTS in a highly desirable specification and should offer a great entree to the hallowed Dino driving experience.
Footnotes