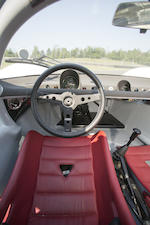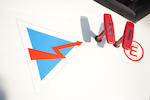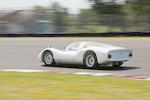 Ex-Alan Hamilton/Richard Hong/Teddy Yip
1966 Porsche Type 906 Carrera Competition Coupé
Chassis no. 906-007
Engine no. 906-153
Type no. 901-20
1,991cc Twin Plug Flat 6-Cylinder Engine
2 Weber Carburetors
210bhp @ 8000 rpm
5-Speed Manual Transmission
4-Wheel Independent Suspension
4-Wheel Disc Brakes

*Well-researched example with clear history
*Owned and raced by a major figure in Porsche history
*The first of the Piech era of fiberglass prototypes
*Affordable entry into the club of the Porsche prototypes
*Eligible for events like Le Mans Classic, Tour Auto, Monterey Reunion


The Porsche 906

The classic 906 was produced for the 1966 season of World Championship of Makes racing. It was designed to meet the requirements of the FIA's new Group 4 regulations, while modified variants of the model – using larger engines or cut-down Spyder bodywork – could be accepted for Group 6 Sports-Prototype competition.

The 906 became the last street-legal racing car to be produced by Porsche. It replaced the steel pontoon-chassised Typ 904 model and was the first substantial product of Technical Director Ferdinand Piech's new design regime at the Zuffenhausen factory. Where the complicated and costly Porsche 904 had derived structural rigidity from its bonded-on molded fiberglass bodywork, the new 906 featured a racing-bred multi-tubular spaceframe chassis, clothed by unstressed molded fiberglass body paneling.

As a result, the initial batch of 50 Porsche 906 – or Carrera 6 – Coupe cars that then emerged offered competitive light weight - some 1,300 lb (580 kg) which represented a weight savings of around 250 lb (113 kg) compared to the similarly-engined 904/6. The Porsche 901/20 6-cylinder lightweight racing engine was standard equipment, offering 220bhp on carburetors. A handful of factory-entered works cars were alternatively powered either by fuel-injected versions of the 6-cylinder engine, or were adapted to accept flat-8 cylinder power units, all – of course – air cooled.

The Carrera 6 model was notable for its external envelope shape dictated by extensive wind tunnel testing. This research and development work endowed the model with a top speed as high as 170mph (280km/h) at Le Mans, which for a 2-liter car was immensely respectable.

The new cars made their international racing debut in the 1966 Daytona 24 Hours, one example finishing 6th overall and beating the Ferrari Dino 206 in its 2-liter category. Its drivers on that occasion were Hans Herrmann/Herbie Linge, and at the subsequent 12 Hours of Sebring, Herrmann won the category again in a new Carrera 6, co-driving it this time with Gerhard Mitter and Joe Buzzetta, and finishing fourth overall.

The Monza 1,000kms also saw 906s dominate the 2-liter class, this time with Herrmann/Mitter in a works entry leading home the private customer version of Charles Vogele/Jo Siffert, these two cars placing fourth and fifth overall behind the victorious Ferrari 330P3 and a pair of Ford GT40s.

The Targa Florio in Sicily was the next World Championship race that year, and there the Carrera 6 won outright, Willy Mairesse/Herbert Muller co-driving the Swiss Ecurie Filipinetti-entered car. The Dutch racing brothers, Gijs and David van Lennep, then won the Sports 2-liter class in the less-prominent Spa 1,000kms – co-driving their bright orange-liveried Racing Team Holland Porsche 906 - and in the ADAC 1,000kms classic at the Nürburgring the Dutch pairing won again, from Swedish private owner Sten Axelsson and Bo Johansson in the former's sister car.

The 1966 24 Hours of Le Mans then saw works-entered prototype category Porsche 906LE Coupes finishing 4-5-6-7 behind the leading trio of 7-liter engined Ford GT Mark IIs, outlasting all of the previously dominant V12-engined sports-prototype Ferraris, while the 2-liter Sports class was again dominated by a standard 906 – co-driven in this instance by Gunther Klass/Rolf Stommelen.

Completing that memorable season of endurance racing achievement, the Hockenheim 500kms was utterly dominated by Porsche 906s, which filled the first six places – works drivers Mitter, Klass and Herrmann placing 1-2-3 in the factory-entered 906LE variants, while Udo Schutz, Gerhard Koch and Andre Wicky showed how well competent private owners could do in their customer cars by chasing the works stars home to fill 4th, 5th and 6th places.

The Austrian 500kms event at Zeltweg then saw Gerhard Mitter/Hans Herrmann and Jo Siffert (driving solo) finishing 1-2 for Porsche System Engineering, with the Scuderia Lufhansa-entered sister 906 of Udo Schutz/Herbert Linge finishing third for another complete 'Carrera 6' whitewash.

Into 1967 the Carrera 6s continued to be campaigned by prominent private entrants and drivers, while the Ferdinand Piech-directed Porsche factory team moved on to introduce their much more specialized and larger-engined Typ 907 models, culminating in the Typ 908 flat-8 cylinder replacement for 1968-69. All of this, of course, led directly to the immortal Porsche 917 – towards which the 906 (as offered here) was a crucial stepping stone.


The Motorcar Offered

This very well-documented example of the Porsche 906 – more familiarly known in period as the 'Carrera 6', was supplied by Porsche Kundensport to the marque's contemporary Australian importer, Alan Hamilton. In essence two cars emerged both using the chassis identity '906-007'. One is the entirely distinctive lightweight Spyder-bodied car nicknamed 'Känguruh' which ran so strongly with flat-8 cylinder engine installed in the 1967 Targa Florio. The other is this now standard Carrera 6 Coupe-bodied machine offered here. Porsche's former competition department director and Le Mans-winning racing driver Jürgen Barth has confirmed the derivation of this duality in his definitive book Porsche 906.

In its early service 'down under, the tall Alan Hamilton had the roof removed to enable him to fit comfortably into this 2-liter flat-6 cylinder road racing car. He promptly won a 1967 Australian Championship with this car, before selling it – still in Spyder form – at the end of that year to Richard Wong Wei Hong in Singapore. He campaigned the car widely in a series of events very well documented in the files accompanying this car, before re-selling it to the renowned Macau-based motor racing enthusiast, entrant and entrepreneur Mr Teddy Yip.

The car continued to be campaigned over a considerable period under his auspices and remained stored in Macau until as recently as 2000 when it was imported into the UK. It was cleared for importation to a Dr Henry Lee of London, and we understand that in 2001 it passed to celebrated historic car dealer/racer David Clark.

In 2002 the car moved back to Germany and came in the possession of its last long-term owner in 2003. He initiated total restoration of the car to its original closed Coupe 'Carrera 6' configuration – the work being undertaken by MEC-auto in Belgium. This six-year program was completed in 2009. The original multi-tubular chassis frame was restored and a new FIA-approved roll-cage was mounted. All mechanical components were renewed and all magnesium suspension parts and wheels were replaced as a routine safety measure. Brand new fuel-tank safety cells were also installed.

The comprehensive documentation file includes a letter from Jürgen Barth to MEC-auto; copies of numerous old race programs mentioning entries by Wong and Yip, and – of course - various restoration invoices.

Other valuable items included in this sale are the original Macau-period Spyder body, still bearing Teddy Yip's famous 'Theodore Racing' logos - and numerous spares including a 901 series engine block, fuel tanks, and assorted other components. These components will be made available for pickup at the buyer's expense from their present location in Houston, Texas.

This 906 is one of only 66 such machines which Porsche are understood to have produced. It is offered here in restored condition, having not been used much since completion of its restoration. Subject to the normal pre-race checks and servicing, it should prove to be a great companion for historic events such as the Le Mans Classic, Rennsport Reunion, or Rolex Monterey Motorsports Reunion.

906-007, with its considerable documentation and accompanying original parts, has significant appeal indeed. As a historical artifact - one that can be used and enjoyed still today - this is a historic racing Porsche that will appeal to the most discerning enthusiasts of the marque.
Footnotes