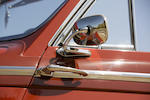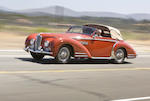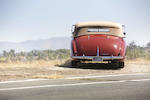 1949 Delahaye 175 S Cabriolet Dandy
Coachwork by Henri Chapron
Chassis no. 815028
Engine no. 815028
4,453cc OHV Inline 6-Cylinder Engine
Triple Carburetors
Approximately 185bhp
4-Speed Cotal Electric Pre-Selector Manual Transmission
Independent Front Suspension - De Dion Rear Axle
4-Wheel Drum Brakes

*One of just 10 Left Hand Drive examples
*Multiple Concours Award Winner, including Pebble Beach
*Restored in 2004 by Alan Taylor
*Recent major mechanical work
*A great tour car


The Delahaye 175

When Delahaye returned to automobile manufacture following World War II, it re-introduced the pre-war Type 135, a 3557cc 6-cylinder model offered in three states of tune. It was joined by the larger-engined Type 175, which in addition to a 4,453cc inline 6-cylinder engine also boasted hydraulic brakes, a deDion rear axle and an available electric Cotal gearbox.

It is believed that between 46 and 50 175 chassis were built from 1947 to 1950. It was important for all European manufacturers to look to the rich and stable US market after the war for a clientele who had suffered little of the privation of the conflict and were able to spend considerable sums on beautiful, fast cars. As such, ten of the production were built in left hand drive specifically with an eye on the American market. Each of these cars were made-to-order by French coachbuilders and had individual details in design.


The Motorcar Offered

This Delahaye 175 S is one of those ten left hand drive models. The body style of this 4-seat convertible was called 'Le Dandy' by the coachbuilder Henri Chapron; the name was later used for a custom body on the Citroën DS platform, unrelated to this car.

The first owner of this car is unknown, although it did not, as expected, go to America. In 1959 Mr. J.H. Caperton of Louisville, Kentucky purchased this Delahaye from A.F. Loyens of The Netherlands. It is thought that Mr. Caperton went to New York, to which the car was shipped from Europe, and drove it back home to Kentucky. It is believed that Mr. Caperton had some restoration work done on the car during his ownership. It was next known to be the property of Mr. Earl Brown of Prospect, Kentucky in whose hands the American Delahaye Club showed the car in 1964. Mr. Louis Cardello of Pittsburgh, Pennsylvania bought the 175S from Mr. Brown in late 1982 or early 1983 and from him the car was purchased by noted collectors Al McEwan and Dick Hooper in November of 1983. The new owners sent the Delahaye to Lou DeLong of Lodi, Ohio for a full restoration and upon completion, the Delahaye made its show debut at the 1985 Pebble Beach Concours d'Elegance. It won a Second in Class prize as well as being nominated for the Most Elegant Convertible award. The Delahaye returned to the lawn at Pebble Beach in 1992 for the celebrations of Delahaye as the featured marque.

Mr. Charles H. Morse bought the car from McEwan and Hooper in late 1996. Mr. Morse found his pleasure with the Delahaye not on the show field but on the road, using it for extensive touring for a number of years. In the early 2000s it was purchased by the current owner.

In the current ownership, it was sent to the restoration shop of Alan Taylor for a new restoration in 2004 during which the interior and soft top were changed to their current colors. It returned once again to Pebble Beach in that year, winning 2nd in the Grand Touring Postwar class; the Delahaye has covered a mere 2,000 miles since the completion of Taylor's work.

The subtle two-tone Terra Cotta paint and tonal Terra Cotta leather interior lend this 175S a subtle presence and allows the chrome detailing to play its part as intended by Chapron. The designs of this Parisian automotive couturier were not as flamboyant as those of Saoutchik or Figoni et Falaschi but when inspired Chapron-bodied cars could have all the boulevard dash of their more obvious competitors, while still being serious enough to be driven by the businessman and not only his mistress. The three-position top gives the driver the option of a fully closed conveyance, a 'coupe de ville' open front section or a fully open convertible. The character of the Delahaye changes dramatically depending on which choice of roof configuration is chosen.

Taking a look inside reveals wonderful interior details which could only be found on a French Grand Routier. The pleated front seats with center armrest recall those on the great French express trains and the ribbed chrome bezels of the two major gauges command the dashboard with its beautifully formed chromed knobs and rich wood trim.

In its time here in America, this Delahaye has won prizes not only at the Pebble Beach Concours d'Elegance, but at Meadow Brook, Newport Beach, Keels and Wheels and many others. Its distinctive style and forceful presence make it a standout wherever it goes. The voluptuous body of this French siren shows superb panel fit and excellent gaps, while the paint is lustrous. The deeply plated chrome trim is what would be expected of a national Concours level vehicle. With regular maintenance and recent improvements, including new valves, cylinder head work, new driveshaft, clutch and generator, this Delahaye 175S is as unique of a tour vehicle as it is a Concours show stopper. The choice of how best to enjoy it is yours.
Footnotes