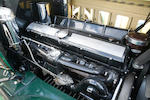 1930 Cadillac V-16 All Weather Phaeton
Coachwork by Fleetwood
Engine no. 701834
452ci OHV V-16 Engine
Twin Updraft Cadillac Carburetors Fed By Twin Vacuum Tanks
185bhp at 3400 rpm
3-Speed Synchromesh Manual Transmission
Solid Axles Front and Rear with Semi Elliptic Leaf Springs
4-Wheel Vacuum Assisted Drum Brakes

*Cadillac's crowning technological achievement, the V-16
*Desirable All Weather Phaeton coachwork
*Many previous Concours awards
*Well restored for shows and regular use
*Extremely expensive model aimed at society's elite


The Cadillac V-16

Cadillac's development of the V-16 was shrouded in utter secrecy. It was an absolute success, a stunning accomplishment for an organization as large as General Motors and one that relied on a huge array of outside contractors and suppliers.

The new engine was sprung on an unsuspecting public in late 1929 in a flurry of announcements, dealer presentations, previews for privileged clients and public auto shows. While competitors publicly scoffed at the V16's size and complexity, privately they marveled and quickly retired to their drawing boards where twelve cylinder engines bloomed like flowers in the spring. Only Marmon even bothered to try to emulate Cadillac's feat of creating the V-16.

By adopting a relatively small 3" bore Cadillac was able to place the cylinders close together, minimizing the engine's length and, more importantly, the length of the crankshaft. The crank ran in five main bearings and the combination of short crank length and plenty of bearings eliminated annoying harmonics. The V16's narrow 45° vee angle was chosen to minimize the engine's width so it would fit comfortably under the hood. Overhead valves with hydraulic clearance adjustment were chosen for quiet, reliable operation and for easy access to the valve train for service. The better breathing and specific power output of overhead valves was a side benefit.

With "enough" power assured and quality and silence promised, Cadillac looked for something else to distinguish its V-16. GM had just landed the man to provide it, legendary designer Harley Earl from Southern California, hired by Larry P. Fisher to run GM's new Art and Color Department.

Art and Color's singular design statement for the V16 was under the hood. Hidden from public view but very important to Cadillac in conveying the sleek, refined, subdued image of the V16's quiet, confident power, the V16 engine was as much a triumph for the stylists as it was for Cadillac engineering. Everything suggesting the minutiae of function was hidden. The spark plug wires traveled from the distributor to the plugs under covers. The valve covers, manifolds and even carburetors were monochromatic with only carefully selected details and highlights. There were no exposed oil lines. It was a sleek, modern statement of machine age design, carefully detailed and refined.


The Motorcar Offered

This Cadillac V16 is a fine example of the Fleetwood All Weather Phaeton body style. This body style retained the charisma of the phaeton in a more weather-friendly side window equipped version. The All Weather Phaeton also allowed for a retractable division so the car could be both chauffeur- and owner-driven. The handsome style, with its split vee windscreen and close coupled styling, made it one of the best looking all-weather bodies of its era. Cadillac's pride in this version made it the featured example on many of its motor show stands. The All Weather Phaeton carried a monumental price tag of $6,650 – that is, $150 more expensive than the dual cowl Sport Phaeton!

This example was fully restored to a high standard about 20 years ago, almost hard to believe considering how well it presents today. The car shows only minor hints of age but is in general still a stunning machine. It is finished in a handsome and distinctive color scheme and beautifully trimmed in leather and broadcloth. The car's interior trim work has also recently been done, bringing the interior up to a high standard. The recipient of many awards over the years, including numerous best of show laurels, the Cadillac was most recently a multiple winner at the Newport Concours D'Elegance. It was also part of a long term exhibition on American styling at the Larz Anderson Auto Museum.

During the comprehensive restoration the motor was rebuilt by noted engine builder William Rotella of Cranston, Rhode Island. It was the last engine completed before William passed away; its smoothness is a testament to his skill as a mechanic and machinist.

The Cadillac has been kept in constant service since its restoration and as a result drives as well as it looks. This is not strictly a trailer queen show car; it is also meant to be driven. All in all, this is a fine example of a handsome V16 Cadillac that will provide much enjoyment at shows and on tours.
Saleroom notices
Please note that the title for this vehicle is in transit.