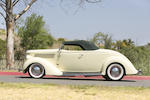 1936 Ford Model 48 Roadster Hot Rod
Chassis no. 182559060
350ci OHV Chevrolet V8 Engine
3 Carburetors
Approximately 245bhp at 5,000rpm
3-Speed Automatic Transmission
Front Independent Suspension - Live Rear Axle
Front Disc - Rear Drum Brakes

*Exquisite example of a period, all-steel Ford hot rod
*Well-known car from the Pacific Northwest hot rod scene
*Striking color combination of Cadillac Ivory over dark green
*Beautifully presented throughout
*A usable hot rod for cruise nights or local shows


The 1936 Ford Model 48

With an annual cosmetic refresh, Ford's full-size Model 48 was almost constantly upgraded and refined. A very popular model, it could be ordered in no less than five different body styles; 2-door Coupe and Roadster versions, as well as a 4-door Sedan, 4-door Convertible, and a 4-door "woody" station wagon.

Powered by Ford's legendary flathead V8 engine, the Model 48 was a ripe platform for modification, and became a very popular base for many post-WWII hot rodders across the United States. 1936 models featured an inverted pentagonal grille with all-vertical bars beneath a prominent hood and three horizontal chrome strips. Pressed solid steel wheels were used instead of traditional wire wheels.


The Motorcar Offered

As with any collectible object, history and authenticity are the primary determinants of collectibility. Many hot rods and customs on the street today are neither historic nor authentic – they lack "street cred" - but not this car. The chance to acquire a period-built hot rod is increasingly rare - and here it is.

This 1936 Ford Roadster arrived on the thriving Washington State custom scene during the late 1950s, where it became a well-known sight at local shows and cruise nights. Archival photos of the car taken during this period clearly show a plate on the rear of the car, indicating its active role in "The Dragons", presumably a local custom car club at the time.

Built around a genuine 1936 Ford Roadster frame and an all-steel body, this intimidating Roadster was tastefully customized more than half a century ago. The modifications done in period included a 2 inch chop to the non-folding soft top, flush-fitting 1939 Ford tail lights, front and rear bumpers from a 1941 Woody station wagon, and Cadillac V16 hubcaps on the red steel wheels, which are shod on whitewall tires. The Roadster is finished in a period Cadillac ivory color, with a beautifully appointed interior in a tasteful, dark green color. The dashboard is sourced from a 1940 Ford and the steering wheel from a 1953 Ford Crestliner. Mechanically this 1936 Ford Roadster matches its aggressive looks, fitted with a Chevrolet small block fed by a trio of carburetors, all with individual chrome air cleaners. Transmission is through a column-shifted automatic. The front has an independent suspension set-up, with disc brakes, while the rear remains stock.

A tastefully prepared, period-built custom like this can be used for many things; local shows or cruise-ins, spirited drives around town, and a great piece of garage art from the golden era of hot rodding - here is an opportunity not to be missed.