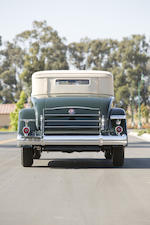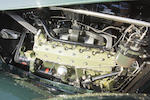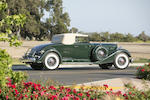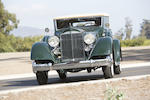 1934 Packard 1107 Coupe Roadster
Chassis no. 73933
Engine no. 902531
445.4ci L-Head V-12 Engine
1 Stromberg Carburetor
160bhp at 3,200rpm
3-Speed Manual Transmission
4-Wheel Semi-Elliptical Leaf Spring Suspension
4-Wheel Drum Brakes

*Pebble Beach Concours d'Elegance Best in Class winner
*Believed to have covered less than 40,000 original miles
*Superb restoration by Stone Barn
*Fastidiously maintained, recently freshened
*Top AACA and CCCA prizes earned


The Packard Eleventh Series Twelve Cylinder

As strange as it seems to us 85 years on, it was perfectly logical during the late 1920s that Detroit was fully engulfed in what would later be called the 'Cylinder Wars'. The leading manufacturers of the day competed to see which could be declared 'king of the hill' when it came to the multi-cylinder luxury car market. Cadillac, Auburn, Franklin, Lincoln and Pierce-Arrow all brought out 12-cylinder models in the early- to mid-1930s, just as the Depression took a stranglehold on the world's economy. As Packard was generally acknowledged to have marketed the world's first production V-12 with the 1916 "Twin Six", when their later twelve was introduced in 1932 it quickly became a standard by which others were measured. Its 67° V-block gave it the kind of smooth balance expected of a Packard and indeed when standing by one at idle, it is difficult to discern if it is running or not, such is its level of refinement.


The Motorcar Offered

Little is known of the early history of this Packard 1107 Convertible Coupe, but in late 1994 or early 1995 it was purchased from Mr. Joe Morgan by noted collector Mr. David E. Kane of New Jersey. It was a very sound, complete car, whose odometer was believed to have been showing approximately 35,000 miles at the time it joined his collection. Mr. Kane had the low-mileage, very original car restored by Stone Barn Automobile Restorations of Vienna, New Jersey, in the mid-1990s. The beautifully detailed and thorough work done by this shop is well known and their work has been often seen on the winner's ramp at the leading Concours events in this country. This Packard was no exception and in 1996 won Best in Class, Packard 1933-1941 Open, at the Pebble Beach Concours d'Elegance. At the 1998 Classic Car Club of America (CCCA) Eastern Grand National at Towson, Maryland it scored 100 points and won a 1st place award. The Packard then went on to earn a 1st in the Premier Division in CCCA competition in 2000 among other honors. The car remained sufficiently well maintained and presented in order to have garnered an Antique Automobile Club of America (AACA) National Senior First Prize in 2003 as well.

The present owner acquired this magnificent Packard in November, 2006. In his care it was returned to CCCA competition at the annual meeting in Century City, California in 2007. It was judged there at 100 points and was also was runner up for Best in Show voting at the event, further evidence of the superb state of the restoration done for Mr. Kane and the continuous care given to it by its new owner. However, he was not satisfied to simply dust and polish the car. Instead, as owner of such a fine example, the vendor sought to ensure that it would be in the best operating and visual condition possible.

The engine and transmission were completely rebuilt in 2008-2009 by Rick Engquist of McPherson, Kansas with receipts totaling almost $40,000 and in early 2009 the car was treated to a major cosmetic freshening along with additional mechanical repair and maintenance for a further total of nearly $30,000. Copies of all invoices for this work are available for review.

That this lovely Packard remains in top condition can be confirmed by the strong showing it made in February 2013 at the Packard International Membership Meet in Orange, California where it received a stunning 249.75 out of a possible 250 points in judging and won the Best Pre-War Open award.

Today this handsome and, dare we say, sporting Packard V-12 appears as stunning as the day it first emerged from the factory. It is always important in vehicles of the classic period to ensure that the color scheme suits the styling. And the rich green paint, tan leather interior and beige canvas roof are perfect for displaying the flowing lines and elegant details of this car.

Any 12-cylinder Packard is a special car, offering refinement and style, exemplars of the highest achievement of one of the best American marques. This Eleventh Series 1107 Coupe Roadster is a low-mileage, splendidly restored and maintained American true classic, proven in Concours competition and ready for further show triumphs, touring in the grandest of style or a bit of both.