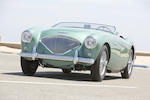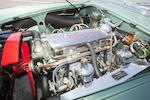 1954 Austin-Healey 100 BN1
Chassis no. BN1-L/157169
Engine no. 1B213876M
2,660cc OHV Inline 4-Cylinder Engine
2 SU Carburetors
90bhp at 4,000rpm
3-Speed Manual Transmission with Overdrive
Front Independent Suspension - Live Rear Axle
4-Wheel Drum Brakes

*Exceptional restoration by Richard Jenkins
*Finished in its factory delivered livery of Spruce Green over Green
*Matching numbers example, eligible for the finest Concours or rallies
*Factory delivered with larger 1 ¾" SU Carburetors
*Offered with Heritage Trust Certificate


The Austin-Healey 100

Donald Healey's stylish Austin-Healey 100 caused a sensation when it debuted at the 1952 London Motor Show. Intended as a low-cost, high-performance sports car targeted for the US market, the car featured beautiful flowing bodywork and an adjustable lay-down wind screen, giving the low Roadster a particularly sporty profile. Fitted with a large, torquey 2,660cc four-cylinder engine, the light and streamlined Healey 100 was a genuine 100mph-plus car. A three-speed gearbox was equipped with overdrive in both 2nd and 3rd gears, essentially giving the car five speeds. Soon after arriving on US shores, the sleek Austin-Healey 100 became the sports car to own among young Americans, and remains one of the most characteristic Roadsters ever produced.


The Motorcar Offered

Completed at the Austin-Healey works in June 1954, this left-hand-drive 100 was finished as seen today, sporting a Spruce Green exterior over a green interior and top. Specified for the North American market, the Roadster was fitted with miles-per-hour and Fahrenheit gauges. Furthermore, the records from British Motor Industry Heritage Trust indicate factory-delivery with larger, 1 ¾ inch SU carburetors, allowing the torquey four-cylinder to breathe more freely.

The car was delivered to the Austin Motor Company of America, from where the new 100 went to its first owner. Believed to have spent most of its life in dry climates, the Healey was owned by Reno, Nevada resident Mr. Byers in the early 1980s, before being sold to a Tahoe Vista, California resident, Mr. Caron, in 1982. Later, the aging Healey was taken off the road, and stored until purchased by a Colorado resident, who would later sell the car onto the consignor.

A complete car, still intact with its original chassis, engine and body tags, and with its original engine and transmission in place, the Healey was a perfect candidate for a thorough restoration. The man for the job was Richard Jenkins, a noted southern Californian restorer with renowned expertise in British cars, having trained at Jaguar Cars, Ltd when E-Types were new cars.

The Concours-quality restoration undertaken by Mr. Jenkins included an engine rebuild with new high compression pistons, bearings, oil pump and timing chain, and refurbishment of all ancillaries. The transmission, suspension and brake system also were restored to factory correct standards. The original body and chassis was carefully stripped and prepared before being repainted and reupholstered. Bright work was finished by Sherms plating, and a new wiring harness was installed. The original Dunlop wire wheels were restored to the correct silver, and mounted with period-correct Dunlop RS5 tires. An exceptional restoration through and through, this is arguably one of the best presented Healey 100's available anywhere, and would be a welcome contestant at most Concours, or a great companion on rallies such as the California Mille. One could easily install a 4-speed transmission from a later BN2, but with overdrive on 2nd and 3rd, many Healey enthusiasts are just as happy with the early three-speed box. Offered with its Heritage Trust Certificate and many photos from the extensive restoration, this superb 100 deserves a close look.