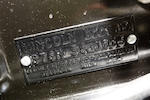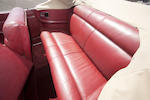 1948 Lincoln Continental Cabriolet
Chassis no. 8H181792
305ci L-head V12 Engine
3 Ford Carburetors
Approximately 150bhp at 4,000rpm
3-Speed Manual Transmission
4-Wheel Leaf Spring Suspension
4-Wheel Drum Brakes

*Beautifully restored example of Lincoln's top-of-the-line model
*Tastefully upgraded with period tri-carb setup
*Elegant black over red livery
*Smooth twelve-cylinder power
*CCCA Full Classic


The Lincoln Continental

The idea to develop a top-of-the-line, exclusive Lincoln model struck Edsel Ford in the late 1930's. Targeted to compete with the dazzling European models from companies such as Delahaye and Alfa Romeo, the prototype Continental, as it was fittingly named, was a one-off built for Mr. Ford's personal use. The prototype, designed by Ford's legendary chief stylist Eugene T. "Bob" Gregorie, was an elegant convertible, or "cabriolet" as they liked to call it, boasting a long streamlined hood and fenders which elegantly shrouded its 12 cylinder power-plant.

Introduced to the public in 1940, the new luxury sedan was the finest model in Dearborn's offering, and nothing short of a sensation. The 1940-41 Continentals shared their pointed prow and curvaceous fender shapes with the streamlined contemporary Lincoln Zephyr; 1942 brought a complete redesign featuring more squared-off fenders. When production resumed in 1946 following the war, the Continental essentially retained the 1942 styling. As the only post-WWII American cars powered by a twelve cylinder engine, it is not surprising that these Lincolns were expensive - the list price for the 1948 Continental Cabriolets was $4,746, more than two and a half times the cost of a Ford V-8 Convertible.

During 1951 the Museum of Modern Art included a first-generation Continental in an eight-car exhibit honoring automotive design excellence, and collectors have been recognizing the 1940-1948 Continentals as collector cars from the early days of the hobby. Considered a Full Classic in the Classic Car Club of America rulebook, the cars' continuing popularity inspired the after-market accessory "continental kits" of the 1950s.


The Motorcar Offered

The Continental offered here is one of just 452 Cabriolets produced for 1948, the final year for the first-generation design and the last Continental until the Mark II was introduced in 1955. Finished in black over a red interior, this beautiful Continental exudes elegance and class.

The Continental underwent restoration in 1985, by Redwood City, California based restorer Rob Marconi. The car remained in California, and in 1992 was purchased by Donald Bauer. Fitted with tall, white-wall tires the Lincoln has a period-correct profile. The beautiful bright work contrasts nicely with the rest of the car, and a tan canvas top is in place should the skies open up on a CCCA Caravan or similar tour. Offered from a Southern California collector with a taste for the finest pre- and post-war collector cars, this fine Continental Cabriolet deserves careful consideration.