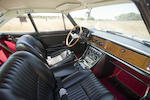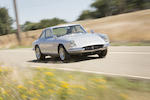 1967 Ferrari 330GTC
Coachwork by Pininfarina
Chassis no. 10105
Engine no. 10105
3,967cc SOHC V12 Engine
Triple Weber Carburetors
300bhp at 7,000rpm
5-Speed Manual Transaxle
4-Wheel Independent Suspension
4-Wheel Disc Brakes

*Matching numbers example with air conditioning
*History report by Marcel Massini available
*Extensive recent servicing by Patrick Ottis
*In the same ownership since 1975
*Complete with books and tools


The Ferrari 330GTC

Intended to fill a gap in Ferrari's line-up between the four-seat 330GT 2+2 and the racer-on-the-road 275GTB, the two-seat 330GTC debuted at the Geneva Motor Show in March 1966 and was essentially a closed version of the 275GTS. Pininfarina's understated coachwork combined elements of the latter at the rear, with touches of the 500 Superfast at the front.

Beneath the 330GTC's bonnet resided the 4.0-liter, 300bhp version of Ferrari's familiar 60-degree V12, as used in the 330GT 2+2. The short (94.5" wheelbase) chassis followed Ferrari's established practice of tying together sturdy oval-section main tubes in a steel spaceframe, while the suspension was independent all round by means of wishbones and coil springs. First introduced on a road-going Ferrari (the 275GTB) in 1964, the rear suspension incorporated the five-speed gearbox in a transaxle, an arrangement that created a better balanced car and one that gave its driver, 'the wonderful sense of knowing just exactly what's going on between one's posterior and the pavé.'

Much development work had concentrated on the reduction of noise levels in the cabin, which was luxuriously equipped in the best Gran Turismo manner: leather seats, electric windows and heated rear screen were standard; radio, air conditioning and Borrani wire wheels the options. With a top speed in excess of 150mph, excellent ride comfort and sure-footed handling, Ferrari could justifiably claim the 330GTC to be the finest of high-speed conveyances for two people and their luggage.


The Motorcar Offered

This breathtaking 330GTC was completed in 1967, and according to Ferrari historian Marcel Massini, was dispatched to the Bologna Ferrari dealer Motor S.a.s., delivered in silver over black with air conditioning. While its original owner was not recorded, the original warranty booklet still with the car indicates that it was serviced on three occasions through 1968 at a Ferrari – Peugeot service facility in Rome. By 1974 the GTC was in the hands of a Sig. di Stefano Sergio in the town of Pizzoli, Province of L'Aquila, Italy, as confirmed by period insurance certificates still with the car. At this time the car was registered on Italian license plate AQ 93583. In April 1975 the car was imported to California, having been purchased by William C. Morton of San Carlos, California. Morton, along with his wife Judy, would enjoy the car for many years, during which time it was kept in fine running order and exercised often, including several appearances at the Virginia City Ferrari Hillclimb – '10105' was reported to have held Virginia City class records during this period. Following the passing of Mr. Morton, his widow kept the Ferrari. As luck would have it, she later remarried a fellow vintage racer, and the GTC has remained in their family ever since.

Starting in 2001, a thorough restoration was undertaken to bring the GTC back to its original splendor. This work included an engine rebuild performed over a three-year period by marque specialist Brian Crall. The upholstery, including seats, carpet, interior panels, and trunk were redone using original Ferrari materials; this work was carried out by Stewart Tifft. Paint and chrome was entrusted to Brian Moore Restorations. A set of stunning Borrani wire wheels were shod in correct Michelin XWX tires and fitted to the car after the wheels had been rebuilt by Zenith Wire Wheel. The original set of Campagnolo alloys accompanies the car.

Finally, in 2011, the GTC was entrusted to Ferrari expert Patrick Ottis for a thorough and final sorting, the result being a turnkey 330GTC that can be enjoyed and driven with confidence. Since this restoration was completed, the GTC has been driven some 1300kms by its owners. When recently tested by a Bonhams specialist, it was found to be a delight to drive, with good power, tight suspension and steering, a transmission that is a delight to use thanks to its signature Ferrari gated shifter, and brakes that haul the car down from high speeds with confidence and poise.

A stunning example of the legendary front-engine V12 330 GTC, this is a "no stories" car with a well-understood history, that has had the benefit of one family ownership for nearly 40 years. Offered with a full set of original tools, as well as books, the full set of five original Campagnolo alloy wheels, and its original cooling fans, this GTC presents as a complete historical package. Presented in its original color combination, here is a car that affords its new owner the chance to participate with pride in various Concours events, or indeed to enjoy its sensational driving experience on any number of historic tours.
Saleroom notices
Having noted that coolant is mixed with the engine oil in this lot (we speculate it may be a head gasket issue) we are pleased to confirm that, following the auction, the Ferrari will be retained and repaired at the Seller's expense prior to delivery to the buyer, also courtesy of the Seller, as long as the buyer is located in the lower 48 US States. If the buyer is outside of the Continental United States, the Buyer is responsible for shipping costs.