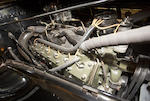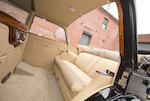 Ex-Doris Duke
1938 Packard Twelve Custom Landaulette
Coachwork by Rollston
Chassis no. 16082025
Engine no. A600504
473ci V12 Engine
175bhp at 3,200rpm
3-Speed Synchromesh Manual Transmission
Independent Front Suspension - Solid Rear Axle
4-Wheel Vacuum Boosted Hydraulic Brakes

*One of a kind Rollston coachwork
*Delivered new to Doris Duke
*Top-of-the-line 1608 Twelve with attractive Landaulette top
*Recently fully restored
*One of the best driving classics


The Packard Twelve

Today many regard the Packard Twelve as second only to Duesenberg as the finest American car of the classic era. Many would even argue that Packard surpassed Duesenberg in styling and some engineering details. Certainly, a single drive in a Packard Twelve is sufficient to convince even the most stubborn doubters of its greatness.

Packard beat its rivals to the big V engine wars by decades. They introduced their first twelve cylinder car in late 1915. The original Twin Six was an engineering tour de force and placed Packard on a level that was difficult for its rivals to emulate. This engine was eventually replaced by another Packard masterpiece: the straight eight in 1924. With Cadillac's introduction of the V16 in 1930, Packard knew they needed a big V to compete. For 1932 they introduced a new masterpiece: the Twelve, or as it was called for 1932 only, the Twin-Six. This engine was as beautiful to behold as it was to hear run. The motor had an architectural look many thought would be employed only by the likes of Bugatti and Voisin. The faceted edges of its complex valve covers would become an instantly recognizable icon of the classic era.

For all its exterior beauty, the real beauty was in its exquisite driving performance. The motor felt as if it had limitless power while at the same time being smooth and whisper quiet. Even today, drivers do not feel at a disadvantage on any modern road or highway with a Packard Twelve. Like many great innovations of 1932, they were introduced into a most depressed automobile market. The year 1932 would be Packard's lowest production year of the period and would spell the end of many great American marques.

Packard was able to adapt and survive throughout the difficult years of the Great Depression. The Twin Six became the Twelve in 1933 and survived until 1939. In these years the Twelve would serve as the basis for some of the most spectacular and coveted custom coachwork of the classic era. The Packard Twelve bodies by Dietrich and LeBaron are considered masterpieces of automotive styling.


The Motorcar Offered

Any custom Packard Twelve is a special machine. When it has one of a kind coachwork by Rollston and was commissioned by the world's wealthiest woman it is truly special. This one-off custom Rollston Landaulette was ordered new by millionaire heiress Doris Duke.

Doris Duke was the child of James Buchanan Duke and Nanaline Holt Inman (the Peerless owned by James Duke is also in this auction). James Buchanan Duke died in 1925 and Doris (aged twelve upon his death) inherited a good share of her father's tobacco fortune, valued at between 60 and 100 million dollars.

The family had residences in Hillsborough Township, New Jersey; Manhattan; and a mansion, "Rough Point" in Newport, Rhode Island.

Duke ordered this custom Packard in 1938 to serve as a chauffeur-driven car to shuttle her between New Jersey and her Newport mansion. The car did make many trips into New York City and numerous souvenirs of New York nightlife were found in the car during restoration.

The Packard was acquired by its owner about a decade ago. The car had been sitting for years and was in need of a full restoration. It had been discovered in New Jersey, not far from Duke Farms, and still wore the DDC emblem on the rear door.

Restoration was entrusted to the highly experienced hands of Ray's Auto Restoration in Webster, Massachusetts. A specialist in classic era cars and Packards in particular, Ray's began the job of reviving this historically important machine. No expense was spared on the restoration. In the end bills totaled over $400,000; the results are impressive.

The car has only recently been finished and is yet to be shown at any major event. Great attention was paid to historical correctness. The original black with tan broadcloth color scheme was used. Every effort was made to preserve what was present on the car instead of replacing or using items from donor cars. The car is reported to run and drive well and has covered quite a few miles since its recent restoration.

The Rollston coachwork is a standout for the era. The thin windshield and body lines are a vast improvement over Packard's factory offerings for 1938. The distinctive Landaulette top is fully functional and opens and shuts precisely. The interior features a radio set in the passenger compartment and a full bar with all the original crystal, sure to come in handy while being driven by your chauffeur.

This fully custom Packard Twelve is a wonderful machine. With its rich history and unique coachwork, it should have a long career of shows and concours ahead of it, and possibly a number of tour miles as well.