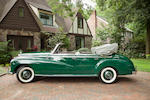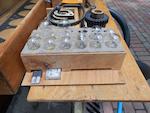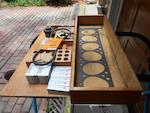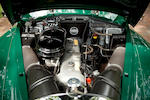 1952 Mercedes-Benz 300 Cabriolet d
Chassis no. 186.014.02905/52
Engine no. 08242/52
2,996cc SOHC Inline 6-Cylinder Engine
2 Solex Carburetors
115bhp at 5,000rpm
4-Speed Manual Transmission
4-Wheel Independent Suspension
4-Wheel Drum Brakes

*Exceptional award winning restoration
*One owner until 1999
*Matching numbers example
*Presented in factory delivered livery
*The top-of-the-line 300 model


The Mercedes-Benz 300 'Adenauer'

One of Mercedes-Benz's first all-new designs of the post-war era, the 300 debuted at the Frankfurt Auto Show in 1951 and would succeed in re-establishing the Stuttgart firm in the front ranks of prestige car manufacturers, marking a return to the Mercedes tradition of building high-performance luxury automobiles.

Custom built by Mercedes-Benz's most experienced craftsmen, the 300 was luxuriously appointed and trimmed with materials of the highest quality. Fast and elegant, it was one of very few contemporary vehicles capable of carrying six passengers in comfort at sustained high speeds.

It was the car of choice among West German government officials, and throughout Europe and the USA was widely favored by businessmen, financiers and politicians. Indeed, 'Adenauer' became the 300 saloon/limousine's unofficial model name, after German ChaPancellor Konrad Adenauer, its most famous customer. Priced at DM 24,700 in 1954, the 300 Cabriolet d version was among the world's most expensive automobiles of its day.


The Motorcar Offered

A most worthy upholder of the Grosser Mercedes tradition of pre-war years, this rare Cabriolet d is one of only 262 built during 1952, out of a total production of 591. According to a copy of the original Mercedes-Benz wagenkarte (build sheet), this exceptional example came off the production line at the Stuttgart factory on New Year's Eve in 1952. The new 300 Cabriolet d was finished as seen today, with a medium green (DB221) exterior over green leather interior, and was fitted with a matching green convertible top. It was optioned with the top-of-the-line Becker Nurburg III radio, an expensive option in the early 1950s. It was delivered to the newly opened Hoffman Imports of New York, a Mercedes-Benz agent soon to become very important for Mercedes-Benz.

After arrival at Hoffman's, the car was sold to its first owner, Mr. Franklin Eli of Buffalo, New York. The fine Mercedes-Benz must have been a much cherished possession of Mr. Eli's, as he would keep the car, driving it just over 66,000 miles, until placing it in storage in 1969. In fact, Mr. Eli kept the car until his passing in 1999, when the one-owner 300 was inherited by his nephew, Mr. James Eli. Although a very original and well-kept automobile, the aging Mercedes-Benz was in need of restoration. James Eli therefore entrusted restoration to the award winning shop Warren L. Riter and Sons, with the task of returning the classic back to as-delivered condition. Photos of the car on file prior to restoration attest to just how original and intact it was.

The restoration was extensive and took place over the next 12 years, during which time the Adenauer was purchased by the consignor. Towards the end of this painstaking restoration, the car was shipped to California, where the mechanical aspects of the car were serviced by the experts at Mercedes-Benz Classic Center in Irvine. After completion in 2012, the 300 Cabriolet d was shown at the renowned St. John's Concours of America, where it was deservedly awarded first in class. Earlier this year, the car was also shown at the Amelia Island Concours, again resulting in an award. The car's presentation remains nothing short of breathtaking, with exceptional wood trim, superbly finished interior and exterior in the car's original color combination, and the fine and rare optional Becker radio fully restored.

Offered with a desirable assembly of Mercedes-Benz 300 spare parts, this exceptional 300 Cabriolet d is an exquisite example of Stuttgart's finest postwar luxury model; it is ready to be shown at Concours d'Elegance events or driven on the weekends, an experience that can be comfortably shared with family and friends.
Footnotes
Saleroom notices
Please note that the correct engine number for this vehicle is 08241/52.