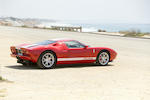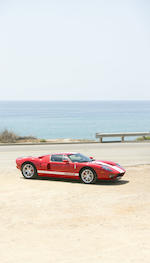 2006 Ford GT
Chassis no. 1FAFP90S66Y401063
5,408cc Supercharged DOHC V8 Engine
Electronic Fuel Injection
550bhp at 6,500rpm
6-Speed Manual Transaxle
4-Wheel Independent Suspension
4-Wheel Disc Brakes

*One owner and fewer than 1,000 miles from new
*Never painted or damaged
*Desirable factory options fitted
*Late example from the final year of production
*Offered with the original window sticker, owner's manuals and all factory delivered accessories


The Ford GT

Mustangs, Thunderbirds and F-series Pickups are all legendary Fords that have populated America's highways for decades. Numbering in the millions, they are recognizable to just about everyone. For motorsport fans or those familiar with Ford's racing heritage, however, there is an equally iconic 'halo' model that best represents the technological capabilities of the marque: the legendary Ford GT40 and its modern supercar counterpart, the Ford GT.

Arriving in prototype form just in time for Ford's centennial celebration in 2003, the Ford GT went into production in 2004 as the modern, road-going interpretation of the GT40 endurance racing car, famously known for beating Ferrari four times in a row at the 24 Hours of Le Mans in the late 1960's. The ultra-high performance Ford GT showcases the finest in advanced technologies, constructed on a lightweight aluminum chassis clothed in superplastic-formed lightweight composite and aluminum body panels, powered by a mid-mounted supercharged quad-cam 550bhp V8 engine mated to a 6-speed manual transaxle, and featuring racing derived suspension and braking systems.

With vicious performance on tap, the Ford GT will accelerate from 0-60 in about 3.5 seconds, and march on to some 205mph before the speed limiter kicks in. When production ceased in 2006, with just over 4,000 Ford GTs produced, the epic Ford had made its mark on automotive history once again - and became an instant blue chip collector's car.


The Motorcar Offered

Even though the first Ford GT is hardly 10 years old today, it is increasingly difficult to find a true, one-owner example. Many cars were traded by speculators when they first arrived at selected Ford dealerships, going from owner to owner within a few years. Presented here is a true one-owner Ford GT with less than 1,000 miles from new. Purchased by the San Diego, California based consignor in June 2006 from Frontier Ford in Anacortes, Washington, the GT was finished in Mark IV Red Clearcoat with the optional painted white racing stripes, and fitted with optional lightweight forged aluminum wheels, red painted brake calipers and an AM/FM radio with CD player. Built in the final production year, it is a fine example of the model.

Remaining in the vendor's extensive collection of classic and collector cars - which spans from the 1930s until the 2000s, the GT has been serviced as needed, though very few miles have been covered. Offered with all factory delivered accessories in place, owner's manuals and the original window sticker, it will be hard to find a better kept example of the Ford GT. Already considered among the finest collector's motorcars, one can just imagine what kind of attention this modern supercar will command in a few decades time.