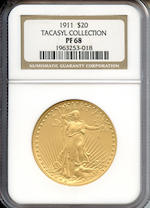 1911 $20 PF-68 NGC
Augustus Saint-Gaudens, designer; Henry Hering modeler; modified by Charles Barber

Obverse: In lowered relief: Liberty striding forward, wearing flowing gown, and hair blowing in the wind; her left foot on a rock, beside which is an oak branch; she holds a lighted torch in her right hand, and an olive branch in her left. To her lower right, a small representation of the Capitol building, behind which 23 rays of the sun emanate, around, 46 stars. LIBERTY; at lower right, 1911, below, monogram, ASG.

Reverse: Eagle flying left, across rays of the sun; above, UNITED•STATES•OF•AMERICA / TWENTY•DOLLARS in two lines; above sun, IN•GOD•WE•TRUST

Edge: E✴PLURIBUS✴UNUM✴✴✴✴✴✴✴✴✴✴✴ in Roman Face letters from triple-segment collar.

Condition: NGC Proof 68 (Certificate number: 1963253-018 – Photo Proof 10-07; previous Photo Proof 10-05 [number 1745730-001]).

Exquisite, pale olive-mustard toning, tightly grained, crystalline, nearly diamond-like facets enhance the devices; a razor sharp strike, two infinitesimal flecks noticeable under magnification on the uppermost feather of the leading wing, otherwise, with essentially unflawed surfaces.

References: This Coin Published: Garrett and Guth (Encyclopedia) p. 514; this piece used to illustrate the NGC Coin Explorer website. Other references: Breen (Proofs) pp. 214; Breen (Encyclopedia) 7380; Akers (1982) pp. 316-317; Bowers (A Guide Book of Double Eagles) p. 253; United States Mint, Operating Records, "Medal Book," 1906-1916, NARA, Philadelphia. (PCGS 9208)

Condition Census: Tied for finest known, NGC lists four other coins of comparable grade and none finer; PCGS has graded none this fine (Proof 67 the finest). The astonishing Philip Morse Collection contained three examples graded as Proof 68 and this example appeared in Part I of that sale. Therefore from the standpoint of both eye-appeal and price realized it may be considered the finest of the three. (07-13)

Rarity: Extremely rare. Breen wondered if the number of survivors would even reach 20, while Akers and Bowers suggested 20 to 25. Garrett and Guth consider this issue to be the fifth rarest of matte proof double eagles. All of the above references quote the incorrect mintage however. The United States Mint's Medal Book records 150 1911 proof double eagles struck in January (with 80 rejected on quality grounds), and 50 struck in May, of which 40 made the grade. Therefore the mintage should be 110 pieces not 100 as is found in virtually all references. The number actually sold remains, at this time, unknown.

Provenance: The Philip H. Morse Collection of Saint-Gaudens Coinage, Heritage, November 3, 2005, lot 6956; PR 68 NGC, "Remarkable....a true museum-quality piece that appears totally without blemish...This is a truly remarkable piece." ($184,000)

Note: In 1911, Theodore Roosevelt, at whose urging Saint-Gaudens produced his final masterpiece, was no longer president, but he began to chaff at the policies of his successor and onetime protégé, William Howard Taft. So much so, that he would ultimately once again throw his hat in the ring and run for President. His insurgent third-party break-away candidacy from the Republican Party ultimately garnered more votes than the sitting president, but by splitting the vote ushered Democrat Woodrow Wilson into the White House.

By 1911, collector interest in the matte proof finish continued to wane, and mintage figures continued to decline. The use of gold coins as a circulating medium was also entering its sunset years. As citizens became more used to paper money, the weight of a gold coin in their pocket became a nuisance. Gold coins, particularly double eagles continued to be produced however, as by law there was a set percentage that had to be held by the Government to back its issuance of gold certificates. They were also widely used for making international payments, and as a result millions of United States gold coins found their way out of the country and escaped Franklin Roosevelt's 1933 recall of all gold coins and their ultimate destruction.