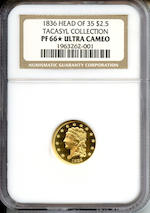 1836 (Head of 1835) $2.5 Ultra Cameo PF-66★ NGC
William Kneass, designer (after John Reich)

Obverse: Head of Liberty facing left, her hair bound in a fillet on which LIBERTY is inscribed, her hair curled and falling to the base of her neck; around, thirteen stars; below, 1836.

Reverse: Heraldic eagle, head facing left, with shield emblazoned on its chest holding olive branch and three arrows in its talons; around, UNITED STATES OF AMERICA; below, 2½ D.

Condition: NGC Proof 66★ Ultra Cameo (Certificate number: 1963262-001 – Photo Proof 10-07; previous Photo Proof 07-06 [number 406767-001]).

An astonishing coin. A wonderful deep reddish gold. Typically for the issue there is slight weakness at the center of the obverse but fully struck elsewhere (the stars and their centers are razor sharp). Deep reflective fields contrast brilliantly with the well-frosted cameo devices; there are a few Mint-made die striae, a reverse lint mark in the field below OF,and planchet fleck above the A of STATES that act as identifiers. For the other coin from this set,the Half Eagle of 1836, see lot 1012.

References: This Coin Published: Garrett & Guth (Encyclopedia) p. 114; this example used to illustrate the 1836 type on the NGC Coin Explorer website. Other references: Breen (Encyclopedia) 6143; Breen (Proofs) p. 65 (Breen B3); Akers (1975) pp. 34-35. (PCGS 388943)

Condition Census: The finest known. According to NGC this is the only coin graded Proof 66★ Ultra Cameo, and none finer; PCGS records no specimens at this grade (Proof 65 Cameo, finest.) (07-13)

Rarity: A phenomenal rarity. Not only for being the finest known example of the date, but as a proof of this design in any grade. For a number of years there was an error on the NGC website, which listed two examples of the 1836 head of 1835 in Proof 66★ Ultra Cameo. However, during cataloguing a check of this coin's two Photo Proof numbers revealed that the earlier certificate had not been deleted when this coin was re-holdered. NGC has since corrected the error, thus confirming this coin's status as the single finest known example.

Akers (who agreed with Breen) thought three or four examples extant prior to his Pittman catalogue, where he added an example to his census; since then an additional example has been recorded. The list of known examples in addition to this coin (assembled from the Pittman and Heritage 2012 catalogues) includes the Smithsonian (National Coin Collection) example (Head of 1837); John J. Pittman, Part 2, May 20-21, 1998, lot 1720 (Small head of 1834); Harry Bass Collection, Part 3, May 25-26, 2000, lot 92 (Head of 1837); Dr. Robert Loewinger Collection (Heritage [January 2007], lot 3104 (Small head of 1834); Stack's 55th Anniversary sale (October, 1990), lot 1674 (incorrectly attributed as Head of 1835); Bowers and Merena Rarities sale (July, 2002), lot 577 (Head of 1835). It should be noted that although a half dozen examples are known of the date, three separate varieties have been identified, and of each variety, apparently only two examples have been attributed (although the Stack's 55th Anniversary coin is misidentified).

Provenance: The Rarities Sale, Bowers and Merena Galleries, July 31, 2000, lot 580 (part); prior to August 2000, the complete 8-piece set was sold to a private collector for a reported $1,000,000 (according to PCGS Coin Facts website); Brian Hendelson; Anonymous Philadelphia family (as part of a complete 1836 proof set, owned since the date of issue).

Note: For the quarter eagle, the Classic head design had a very short life-span from 1834 to 1839. The design replaced William Kneass's own capped head which was itself a technical improvement on John Reich's yet earlier design of the same type. In this case Kneass, a mechanical wizard, looked back to the designs of Reich's large cents of 1808-1814 and their Empire style for inspiration. Breen's suggestion that it was for uniformity of design fails by a simple comparison with the other denominations then in circulation. The reverse design saw the elimination of the motto E PLURIBUS UNUM, which, according to Breen, was to enable instant identification with the earlier 'old tenor' coins which were heavier and had a higher gold content. Ultimately the motto did not find its way back onto quarter eagles until 1908 and Bela Lyon Pratt's issues. With so many dies being prepared it is small wonder that despite the extraordinarily small number of proofs struck three separate varieties have been identified. During this period virtually all proofs were produced 'to order' (such as the renowned 1834 proof sets [which included 1804-dated proof specimens of the silver dollar and eagle] for diplomatic presentation), and since the proofs were struck from polished business strike dies, it is possible that the duplication of three different varieties of the 1836 quarter eagle proofs, represents three individual orders.
Saleroom notices
Please note, this lot and lot 1012 comprise a complete gold proof set for the year.