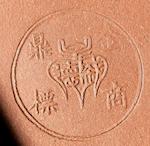 A group of Yixing stoneware scholar's objects
Republican
Comprising a tea jar and cover, a taiji brush washer and a chi-dragon brush washer, a compressed globular waterpot with sharp edges at the waist, together a set of five bowls, all enamelled to the interior with crackled-white glaze, various applied and incised decoration.
The largest: 17cm diam. (9).
Footnotes