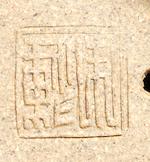 Two Yixing stoneware teapots and covers with two tall vases
Republican
Of compressed globular form, incised with orchids issuing from rockwork and xingshu inscriptions on two sides, the underside of the cover with a seal mark reading liansheng and the base with another reading tiehuaxuan zhi, another melon-shaped teapot incised with prunus and inscriptions on each side, the underside with a seal mark reading yixing youting, together with two other tall vases with similar incised decoration.
The largest: 25.5cm high. (4).
Footnotes