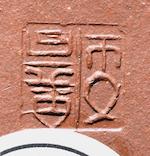 Three appliqué-decorated teapots and covers
Early Qing dynasty
Each of compressed globular form, applied with foliate prunus sprays on both sides, one with the cover surmounted with a chi dragon, another applied with a crane amidst cloud scrolls on the other side; the other with a seal mark on the base, the clay of a reddish hue.
The largest:15.5cm long. (3).
Footnotes