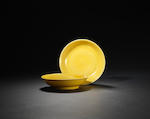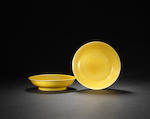 A pair of Imperial yellow-glazed dishes
Zhengde six-character marks of of the period
Each with a short hollowed circular footrim, the curved body rising to a flaring rim at the tip, plainly enamelled in a rich egg-yolk yellow tone all over, the base with a six-character mark.
Each: 17.6cm diam. (2).
Footnotes