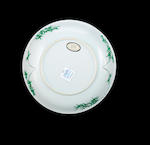 A pair of brilliantly enamelled wucai 'bird' dishes
Kangxi
Each of flattened form with everted rim rising from a short circular foot, delicately enamelled with a bird perched atop gnarled tree branches issuing various flowers and leaves, accompanied by a butterfly in flight, all brilliantly enamelled in vivid tones of famille-verte on a white ground.
Each: 21cm diam. (2).
Footnotes