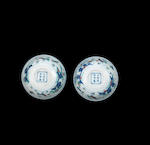 A pair of brilliantly enamelled doucai 'chicken' bowls
Kangxi
Each of gently rounded form rising from a recessed base to a slightly everted rim, brilliantly enamelled with a continuous scene of two groups of cockerels leading the group, two chicks fighting over a worm, a mother hen biting on an insect to feed her offsprings, within rockworks issuing flowering plants and shrubs, all finely enamelled and outlined in underglaze blue, the base with an apocryphal Chenghua six-character mark within a double square.
Each: 9.9cm diam. (2).
Footnotes