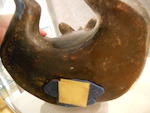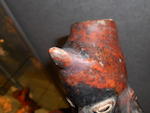 Colima Seated Chieftain, Comala Style
Protoclassic, ca. 100 B.C. - A.D. 250
Earthenware with reddish-brown and dark brown slip
height 17 3/4in (45.1cm)

Provenance:
Sotheby's, New York, 14 May 1996, Lot 102
Private Collection, Ohio

The chieftain sits stoically upright, wearing a headdress with a horn and a shell necklace.