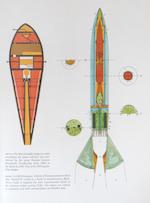 SIGNED BY 13 ASTRONAUTS & FIRST SPACEWALKER.
VON BRAUN, WERNHER and FREDERICK I. ORDWAY III. History of Rocketry and Space Travel. New York: Thomas Y. Crowell, 1969.
xi, 276 pp. 11 x 9 inches. Cloth with dust jacket.

First printing of the revised edition that includes photographs and descriptions of the Apollo 11 lunar landing. Starting with ancient Greek astronomical concepts, this comprehensive history describes over a thousand years of rocketry and Man's desire for travel to other worlds. The effort of Tsiokovsky, Goddard, Oberth, and others is included with many pages devoted to the development of the A4 (V2) rocket by Germany during World War II. Future Apollo moon landing plans are covered.
SIGNED and INSCRIBED with their individual space flight(s) by BUZZ ALDRIN, ALAN BEAN, SCOTT CARPENTER, GORDON COOPER, WALT CUNNINGHAM, CHARLES M. DUKE, RICHARD GORDON, FRED HAISE, EDGAR MITCHELL, WALLY SCHIRRA, TOM STAFFORD, PAUL WEITZ, and AL WORDEN.
SIGNED and INSCRIBED: "Aleksei Leonov, Apollo 19, Soyuz 19" (referring to ASTP).