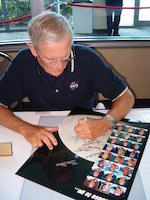 WE CHOOSE TO GO TO THE MOON.
Large color photograph, 20 x 16 inches.

A collage showing the prime crews from Apollo 10 through 17, with an oblique view of the Moon behind.
SIGNED by a crew member from each of the missions: BUZZ ALDRIN, RICHARD GORDON, ALAN BEAN, EDGAR MITCHELL, DAVE SCOTT, AL WORDEN, JAMES LOVELL, CHARLIE DUKE, and GENE CERNAN, all but the first two adding their Apollo mission number.