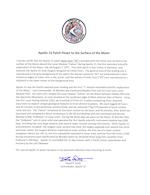 CREW PATCH—CARRIED TO THE LUNAR SURFACE.
Flown Apollo 15 emblem, cloth, 4 inches in diameter. Featuring the Apollo 15 crew insignia designed by Emilio Pucci, and with silver thread on craters to the right forming the Roman numerals "XV."

Flown in the Apollo 15 Lunar Module Falcon, down onto the surface of the Moon. With DAVE SCOTT'S SIGNED provenance note, reading in part: "I hereby certify that the Apollo 15 patch (with silver 'XV') included with this letter was carried to the surface of the Moon aboard the Lunar Module 'Falcon' during Apollo 15, the first extended scientific exploration of the Moon."
He continues with detail on the achievements of Apollo 15, and some key statistics including "the longest lunar surface stay time" and "the largest payloads ever placed into Earth and lunar orbits."
Only a very limited number of these special patches were produced, with the Roman numeral "XV" embroidered in silver thread over the landing site.