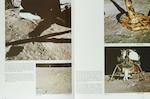 LUNAR PHOTOGRAPHY BY THE ASTRONAUTS—SIGNED.
MUSGROVE, ROBERT G., editor. Lunar Photographs from Apollos 8, 10, and 11. NASA SP-246. Washington: 1971. vii, 119 pp. 10½ x 8 inches. Original cloth gilt.

Includes dozens of lunar surface pictures taken from orbit during Apollo 8 and 10, and over 30 Apollo 11 Moon walk pictures. Each picture has a detailed caption and the individual NASA photographic ID. Includes a detailed photographic index.
INSCRIBED and SIGNED: "FRANK BORMAM, A-8"; "Apollo 10 photos by TOM STAFFORD & Crew"; "Apollo XI photos by BUZZ ALDRIN & Crew"; all on the half title.