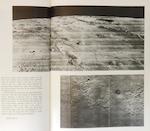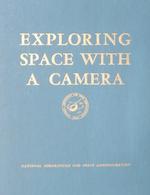 CAMERA'S USE IN SPACE EXPLORATION.
CORTRIGHT, EDGAR M., editor. Exploring Space with a Camera. NASA SP-168. Washington: 1968.
214 pp. 11½ x 9 inches. Original blue cloth.

Contains the most remarkable images of the Earth and planets taken to date by both astronauts and robotic spacecraft. Detailed photographic captions are written by various scientists and engineers directly involved in obtaining these images. Several captions are written by the Mercury and Gemini astronauts. Stunning photographs of the moon from Ranger, Lunar Orbiter, and Surveyor are included.
INSCRIBED and SIGNED, all on the half title, "Aurora 7 photos by Scott Carpenter," "Faith 7 mission photos by Gordon Cooper," "Gemini 5 mission photos by Gordon Cooper" "& Charles Conrad," "Gemini VI and IX photos by Tom Stafford and crews," "GT – XI Photos by Richard Gordon."