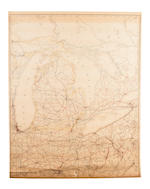 RAND, MCNALLY & CO.
New Shippers Railroad Map of the United States showing all the railroads each in a separate color and all railroad stations in large plain type. [Chicago]: 1895.
A seven lithographic map series, on 17 sheets, hand-colored in outline, extending from Montreal to Northern Florida and from Western Texas to Montana, mapped at a scale of 8 miles to an inch. The maps showing the principal railroads and stations, county and state lines, the state lines hand-colored in outline, rivers and swamps marked but not the mountains. Each map with some browning to the lower margins and sometimes to the upper margin, most maps with a few small clean tears at the lower margin, one with a small loss at left corner. the 7 maps and the western Railroad map all mounted in a special oak holder allowing them to be pulled down as desired.

A RARE MONUMENTAL RAILROAD MAP OF THE UNITED STATES AT THE HEIGHT OF THE RAILWAY BOOM. ONE OF THE LARGEST SCALE RAILROAD MAPS OF THE LATE 19TH CENTURY. These maps are in remarkable condition given their size, and in their original wooden holder. They were presumably for use by a large corporation, planning the movement of goods around the United States. At the time these maps were published, the railways were the only sensible way to move goods about the country. With the advent of the motor car and the strong political lobby that accompanied it, the railway network was whittled down to a shadow of its former self. The 7 maps would cover an area of 297 square feet if laid out, and form a map 12 foot high and 20 foot long. Rand started as a printer of railway tickets in 1852, and in 1872 took on McNally as a partner, who took them into publishing of railway maps, and their commercial publishing became the heart of the company. This large map was first issued in 1888 at this scale and reissued in 1891. Up-to-date information would have been crucial for the success of any business.
The series comprises:
The Montreal, North York and Richmond sections, 3 sheets joined, 66 x 122 inches, title lithographed on the plate.
The Chattanooga and Savannah Sections, 2 sheets joined, 66 x 80 inches, lithographed title label pasted on.
Toledo and Mackinaw Sections, 2 sheets joined, 66 x 80 inches.
St Louis, New Orleans Sections, 2 sheets joined, 66 x 82 inches.
Chicago, St Paul sections, 3 sheets joined, 66 x 103 inches.
Denver and Bismarck sections, 3 sheets joined, 66 x 101 inches.
Santa Fe, El Paso sections, 2 sheets joined, 66 x 80 inches.
These 7 maps are joined in the case by Rand McNally's Junction Point and County Map. Pacific and Central States including Canada and Mexico, scale at 31 miles to an inch, dated December 1895. 2 sheets joined, 66 x 80 inches, the bottom margin with some restored tears. Modelski p 12 (1891 edition); Rumsey 5802.017 lists a composite of 13 sheets without Indiana and North Dakota (present here) of the 1891 issue, and notes that the set had 2 other maps (sheets) of the western US to the Pacific which are in the set but they are on a smaller scale. This set therefore believed to be complete, as issued.