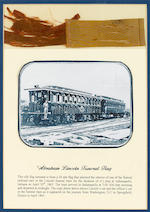 LINCOLN MEMORABILIA.
This lot features a collection of printed material and ephemera relating to Lincoln's career and assassination, including: 1. Sangamo Journal vol VII, no 8 (December 23, 1837). Springfield, IL. 2 pp. Folio. Featuring an advertisement for Stuart and Lincoln, counsellors at law, in column 1.
2. Lincoln and Johnson. 1864 campaign broadside, 89 x 254 mm, ALSO featuring down ballot candidates from Siskiyou County, CA. Framed with small tintype Lincoln campaign button.
3. Ford's Theatre ... Night 191 ... Our American Cousin. Washington: L. Brown, April 14, 1865 (but later). Broadside (480 x 170 mm). Not on rag paper, with inexpert restoration. An early souvenir broadside of the show during which Lincoln was assassinated.
4. A Proclamation by James Y. Smith, Governor of ... Rhode Island: Let the Nation Mourn! April 15, 1865. Printed broadside. Framed.
5. Daily Mirror and American Vol VII, no 8 (April 15, 1865). Manchester, NH. Folio. 4 ll. Featuring report of Lincoln's assassination with black mourning border on column 2 of p 2.
Lot also includes a printed "Ford's Theatre" ticket from an unknown production; an engraving of Lincoln's funeral; a silk embroidered mourning ribbon from the period; a hand-colored engraving of the Lincoln family in the White House; and a silk fragment purported to be from the cars of Lincoln's funeral train.