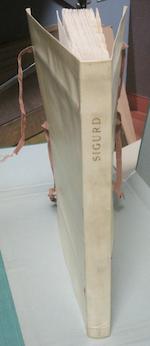 KELMSCOTT PRESS.
MORRIS, WILLIAM. The Story of Sigurd the Volsung and the Fall of the Niblungs. Hammersmith: printed at the Kelmscott Press, January, 1898.
Folio. Printed in red and black. Two full-page woodcuts by Edward Burne-Jones, the facing pages with full woodcut borders; numerous partial woodcut borders and 3- to 6-line woodcut initials. Original full vellum, spine gilt-lettered, three cloth ties. Custom green quarter morocco slipcase. Fine.
Provenance: Joseph M. Andreini (woodcut bookplate printed in green by Lucien Pissarro of the Eragny Press).

ONE OF 160 COPIES. This copy in fine condition and with period American provenance represented by an attractive Pissarro bookplate depicting a shepherdess and her flock. Peterson A50.