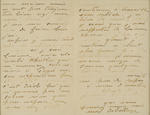 MONET, CLAUDE. 1840-1926.
Autograph Letter Signed ("Claude Monet"), 4 pp recto and verso, 8vo (conjoining leaves), Chateau de la Pinede, Antibes, [April 11, 1888], to a fellow artist, with original autograph transmittal envelope, light toning, all leaves tipped to mat with archival tape, matted with portrait and framed.
Monet writes an unidentified artist friend complaining about the petty intrigues of the Paris gallery scene. Translated: "Now listen to this for some 'great' news about [gallery owner Georges] Petit and [artist Jean Charles] Cazin. The latter maneuvered to achieve his objective and my exhibition will not take place. With my affairs going increasingly better, a way had to be found to block any success I might have at the Petit gallery, and it has been accomplished. / [Rival gallery owner Paul-Marie-Joseph] Durand Ruel wrote to me offering his gallery for a one man show, or any other gallery of my own choosing, but that doesn't tempt me at all, since I would have to take up again with all that crowd." Monet goes on, "In addition, along comes [James McNeill] Whistler and informs me of his arrival in Paris with his exposition lined up for the Petit gallery. It's really funny."