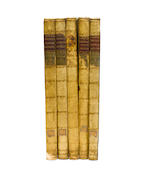 [HERCULANEUM.]
KILIAN, GEORGE CHRISTOPH. 1709-1781. Li Contorni delle pitture antiche d'Ercolano con le spiegazioni, incise d'appresso l'originale da Giovanni Christoforo Kilian .... Tomo II [-IV].... De' Bronzi di Ercolano e contorni, con qualche spiegazione ... Tomo V [-VI]. Augusta: [Kilian], 1778-81.
5 volumes. Folio (371 x 213 mm). [4], 20; [4], 24; [2], 26; [2], 22; [4], 15 pp. 5 engraved folding titles, engraved vignette on printed titles, engravings in text, and 351 folding engraved plates, plus numerous supplemental folding plates in vol 5. Period vellum, morocco spine labels. Some wrinkling and creasing to plates but overall clean, plate XV in vol 4 shaved at margin just touching image, vol 3 lacking label with manuscript spine titles, minor soiling to vellum.
Provenance: Antonio Canovas (Bibliotheca de Bellas Artes bookplate); Bernardine Murphy (bookplate); property of a California educational institution.

Volumes 2-6 only (of 8). Kilian's reduced, popular version of Le Antichita di Ercolano (1740-1792), the collection of engravings of antiquities from the Roman city of Herculaneum, which began to be excavated in 1709. Le Antichita di Ercolano was "the most important source for the development of neo-classical art" (Blackmer 37).