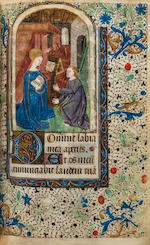 BOOK OF HOURS.
Illuminated manuscript on vellum, mainly in Latin, Book of Hours, [France, late 15th or early 16th century].
8vo (165 x 110 mm). 209 ll, single column, 14 lines per page, in Gothic book hand. 4 large miniatures, with full decorative borders: in the Hours of the Virgin, opening the Hours of the Holy Spirit, opening the Office of the Dead (a burial scene), and opening the Joys of the Virgin. 6 smaller 4-line miniatures: Agony, Betrayal, Christ before Pilate, Flagellation, Crucifixion, Deposition. Several further borders of foliate, floral and tendril design. 19th century morocco. One leaf (probably with a miniature) lacking from Joys, first and last few leaves soiled, miniatures lightly rubbed, binding watersoiled, joints cracked and spine dry and chipping.
Provenance: Property of a California educational institution.

An attractive French Book of Hours, with the calendar, Passion cycle and Joys of the Virgin in French, and with a handful of passages in a different hand including prayers to Saint Godo and Saint Fiacre, both linked to the Marne region of France.