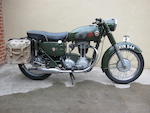 1960 Matchless 348cc G3L
Registration no. XYM 544
Frame no. 74190
Engine no. 60/G3 39225
Weighing as much as the 500cc model from which most of them were derived, but considerably less powerful, the typical British 350 of the 1950s was not likely to be anyone's first choice as a fast sports bike. Rather, these honest, workaday mounts were chosen for other reasons, chiefly their inherent strength, dependability and economy. AMC's offerings in this important market sector were the Matchless G3L and AJS Model 16, models identical in all essential respects, tank badge and magneto position excepted. Testing one of these stalwarts in 1961, Motor Cycling recorded a modest mean top speed of 76mph but found that when toured at a relaxed pace across country, an excellent 86 miles per gallon was achievable. An ex-Auxiliary Fire Service machine, this Matchless was purchased by the vendor approximately three years ago. Soon after purchase he stripped and checked the engine top-end, finding that all that was required was a set of new piston rings plus gaskets. The exhaust system was re-chromed, the seat re-covered, and a new rear tyre fitted. Once these few tasks had been completed, the bike was running well and required virtually no further attention. Indeed, on consignment it started second kick and, according to the vendor, runs and performs well. The Matchless carries the original 'XYM' (London) index mark common to many AFS machines. Accompanying documentation consists of a SORN, Swansea V5C registration document and two old MoT certificates (most recent expired April 2013).
Saleroom notices
Please be advised, the machine is recorded on the HPI database as: The 'Vehicle has been the subject of an insurance total Loss Payment 16/03/1995'. There is no SORN with this machine.