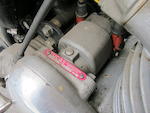 The ex-Roger Ashby
c.1947/1951 AJS 498cc Model 20 Competition Special
Registration no. JVS 382
Frame no. 71010
Engine no. 51/20 7232
This twin-cylinder AJS competition special was assembled by Roger Ashby, a well-known figure in classic trials and racing circles, possibly in the early 1990s. The machine's construction and early history was recounted by Roger for an article in the AJS & Matchless OC's 'Jampot' magazine (May 1995 edition, copy available). Intended for use in MCC long-distance trials, the machine competed in the Talmag, Exeter, Edinburgh and Sammy Miller British Bike Trials events. A Gold Medal was won in the 1994 Edinburgh Trial and the AJS was also scrambled at the British Bike Bonanza. Following acquisition by the vendor in 2009, an extensive overhaul of the machine was undertaken by Kickstart Classic Motorcycles of Frieston, Lincolnshire, which comprised a thorough check and general refurbishment including a complete rewire and dynamo rebuild. A number of other improvements and maintenance works were carried out, the final bill amounting to £5,090.72 (see invoice dated May 2010 on file). The machine is fitted with a new alloy fuel tank and a Lucas competition magneto, while the engine incorporates alloy cylinder barrels, high compression pistons and sports cams. Accompanying documentation consists of a current Swansea V5C, some old tax discs, an old MoT certificate (expired 14th April 2013) and the aforementioned invoice.