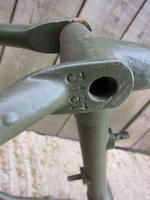 1938 AJS 245cc Model 22 Project
Registration no. DNY 822
Frame no. 3137
Engine no. 38/22 5127 A
Following the 1931 takeover of AJS by rivals Matchless, production was relocated from Wolverhampton to the latter's Woolwich factory and AJS's identity as a separate marque steadily eroded from then onwards as the machines became more like their Matchless counterparts. The Model 22 was one of two new AJS overhead-valve machines introduced for 1935 (the other being the 348cc Model 26) both of which featured a vertical cylinder, twin-port cylinder head and forward-mounted magneto. Enclosure of the valve gear had arrived by 1936 and a single-port 'head - standard on the competition version - became available later. Production continued until 1940.This incomplete and partially dismantled Model 22 twin-port was in its present condition when purchased as a restoration project by the current vendor in January 2012, some work having been carried out by a previous owner. Indeed, we are advised that the engine and gearbox appear to have been overhauled and seem in good condition. A good basis for a rebuild to 'Silver Streak' sports model specification, the machine is offered for restoration and sold strictly as viewed. It should be noted that the frame number does not match that recorded in the accompanying Swansea V5C document. No reserve.