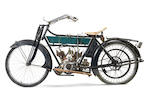 1912 Royal Enfield 2¾hp Twin
Frame no. 3813
Engine no. 2CIV2693
The origins of the Royal Enfield marque can be traced back to a small light engineering firm - George Townsend & Company - founded in Redditch, Worcestershire, in mid-Victorian times. The firm moved into bicycle manufacture and by the turn of the Century had been reorganised as the Enfield Cycle Company, makers of the 'Royal Enfield'. The Redditch company built its first powered vehicles - De Dion-engined tricycles and quadricycles - in the closing years of the 19th Century, and its first motorcycles around 1900. By 1904 the firm was concentrating on car production, resuming motorcycle manufacture in 1910 with a 2¼hp v-twin Motosacoche-powered lightweight. A 2¾hp version with two-speed gear and all-chain drive followed. The famous JAP v-twin-engined 6hp sidecar outfit joined the range for 1912, and the firm continued the v-twin theme with a new 3hp solo for 1913, the latter being powered by Enfield's own 425cc inlet-over-exhaust engine, which was raced successfully in 350cc form.This rare Motosacoche-powered Royal Enfield v-twin Veteran was acquired by Mike Milner-Smyth in 2011, having apparently been kept in dry storage for the preceding 40 or so years. The Enfield is missing its chain guards, has been fitted with wooden footboards and is painted the wrong colour, but otherwise remains remarkably original for a 100-year-old machine. Offered for restoration and sold strictly as viewed, it would make an excellent Pioneer Run mount once restored to running order. The machine comes with email correspondence and assorted photocopied literature. A spare engine (number '2CIV27066') is included in the sale together with a saddle and other miscellaneous parts.
Saleroom notices
The engine number is 2CIV26932.