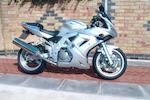 2003 Suzuki SV650S
Registration no. FX53 KJJ
Frame no. JS1BY132200101549
Engine no. P507 117513
Introduced for 1999, the Suzuki SV650 would turn out to be an enormous success thanks to an almost unique combination of compact dimensions, light weight, adequate power, good looks and exceptional value for money that made it appealing to novices and more experienced riders alike. The SV was powered by a 645cc water-cooled 8-valve v-twin engine with integral six-speed gearbox, which was carried in an aluminium chassis equipped with triple disc brakes. Weighing around 165kg (363lb) and with some 65 horsepower on tap, it was plenty fast enough for most riders. A half-faired SV650S version followed. There was only one major revision (for 2003) when the SV received a new frame and various other upgrades including fuel injection. Currently displaying a total of circa 12,000 miles on the odometer, this SV650S is currently registered to its third owner and is described as in generally very good condition. The machine is offered with service history, current road fund licence, MoT to September 2014 and Swansea V5C document.