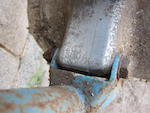 1955 James 199cc Colonel Trials Project
Frame no. 55K12 1891
Engine no. 20T 3809
James had begun concentrating on the manufacture of two-stroke lightweights in the 1930s, and continued the policy after WW2. In 1951 the company became part of the Associated Motor Cycles group, joining Francis-Barnett. Villiers engines were used at first, though from 1957 many models were powered by AMC's own engine. James first adopted the 'Colonel' name in 1953 for a new model, which was powered by the single-cylinder 225cc Villiers 1H engine and used the newly introduced swinging arm frame shared with the 197cc Captain. Full width hubs and an hydraulically damped front fork were introduced on both models for 1955 and in this form the Colonel ran on into 1957 before being discontinued. This Colonel has been converted for trials use and fitted with the 199cc AMC engine. There are no documents with this Lot, which is offered for restoration and sold strictly as viewed. No reserve.